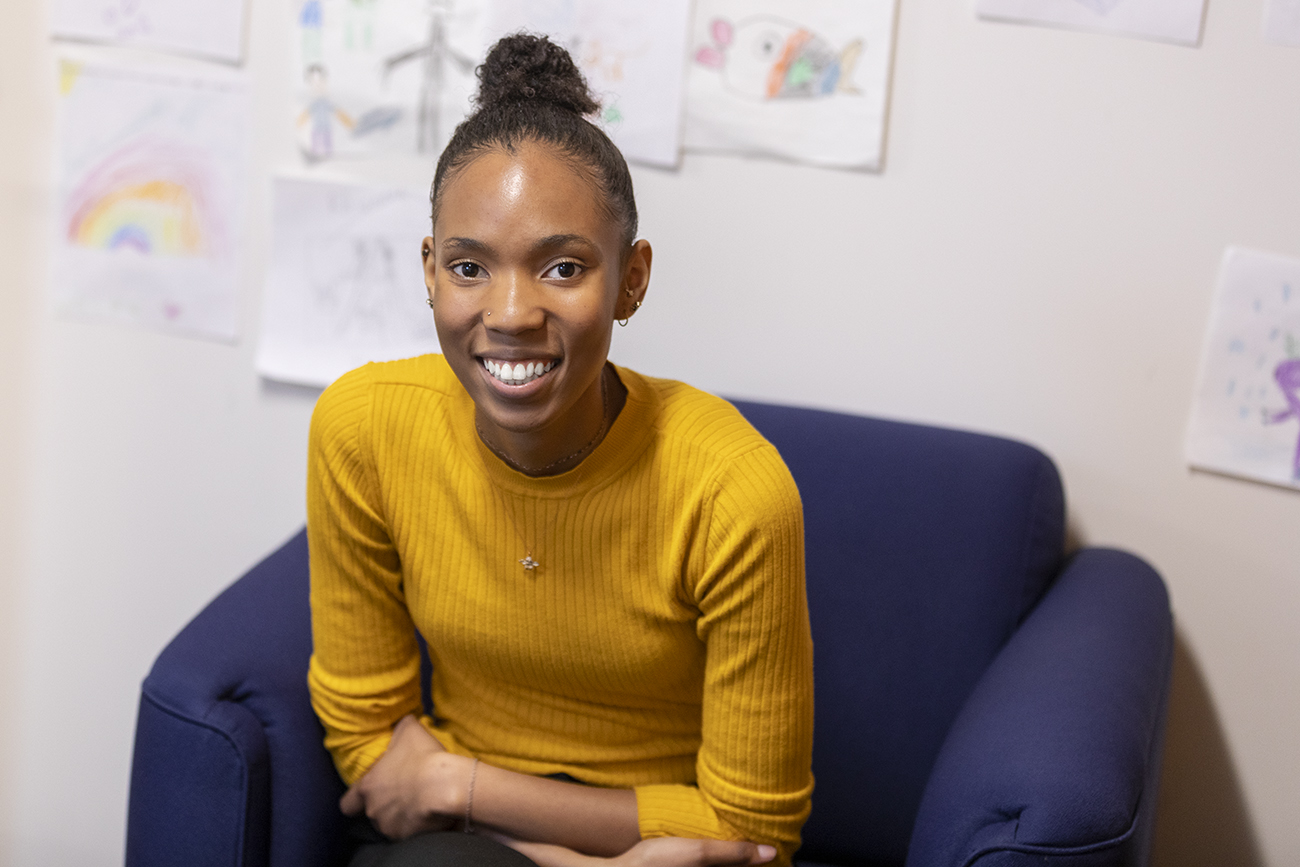 Minutes before she was scheduled to present her gender identity research at the 2019 Undergraduate Research Symposium, Deja Edwards wondered whether anyone from her lab would attend. Several people had mentioned they'd try, but most had other obligations.
Then came a text: We're right outside.
"That's when about 20 people from my lab walked into the room," recalls Edwards, who graduated in June. "I couldn't believe it. It was just the best feeling." It was also a reflection of Edwards' valued role as part of the research team for more than three years.
Participating in research was not something Edwards (BA, Anthropology, 2019) imagined when she first arrived at the UW. Having grown up in a town of 200 people in Pennsylvania, it was enough just to get used to the large campus. But her very first quarter, a biology professor mentioned he would be teaching an introductory course about research and her interest was piqued. She signed up, not realizing that involvement in an actual research project was a prerequisite. Fortunately the professor helped Edwards identify opportunities, which led her to the Social Cognitive Development Lab (SCDL) in the Department of Psychology. "This all happened freshman year when I was still learning what the UW was, and it shaped everything for me," Edwards says.
To this day, I don't know what led Kristina to want to give me a chance, but I'm grateful for it.
SCDL focuses on the emergence and development of social identities in children.  While interviewing Edwards, SCDL director Kristina Olson, associate professor of psychology, asked if Edwards would be interested in a research project about transgender youth. "I said 'Yeah, sure!'" recalls Edwards. "But the truth was I didn't even know what transgender meant. I figured I'd look it up that night. That was part of my awakening."
For the next year, Edwards helped recruit study participants for the lab and did data entry. Over time her responsibilities grew. Olson invited her to join a data-collection trip to California for the project and encouraged her to develop an independent research project.
"Psychology honors students in the lab were doing their own projects, but I wasn't an honors student," says Edwards. "I wasn't even a psychology major, and I hadn't been in the lab that long. To this day, I don't know what led Kristina to want to give me a chance, but I'm grateful for it."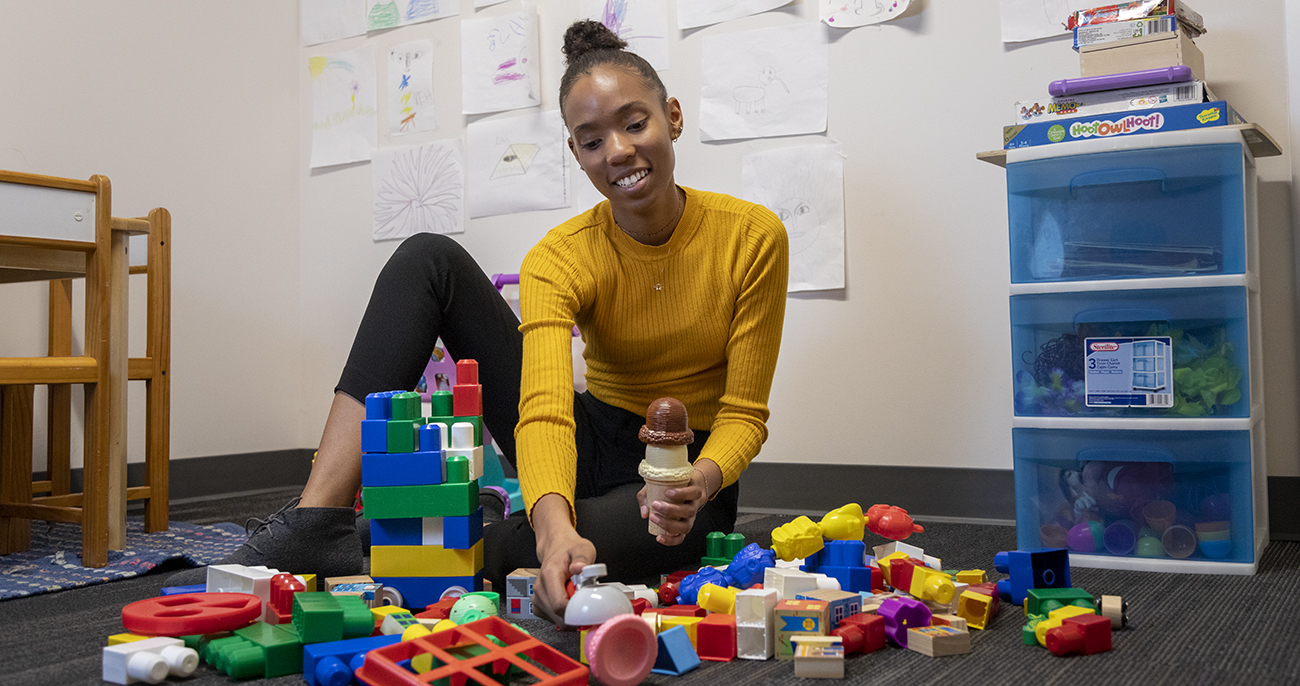 Olson assigned a mentor to advise Edwards in her independent research, as she did for all students working on independent projects in the lab. Edwards began working with postdoctoral researcher Selin Gülgöz, who answered questions about research methods and provided guidance as Edwards prepared research posters, papers, and presentations. For her independent research, Edwards worked with data known as the "spectrum measure," a sliding scale on which children indicate how much they identify with a specific gender. Edwards explored how various factors might account for the childrens' responses.
"What I found is that on average, none of the kids — not even those in our cisgender group — mark themselves as feeling 100 percent a boy or girl, which shows us that kids aren't as binary as we think they are," says Edwards, who has had one research paper accepted for publication in an academic journal and is working on a second paper with Gülgöz.
Despite her dedication to Olson's lab, Edwards also wanted to participate in research in her chosen field, medical anthropology and global health. So her senior year, when a Department of Anthropology professor mentioned an opportunity for independent research on breastfeeding, Edwards jumped at the chance. The project, designed to test the theory that Caesarean sections (C-sections) have an impact on breastfeeding, compared outcomes for mothers with C-sections in the US and in an Indigenous population in Argentina, where C-sections are common.
The global health aspect of that research appealed to Edwards, who had already completed a study abroad program in Switzerland on developmental policy in global health (through SIT Study Abroad). Students in the program attended briefings at the World Health Organization and other health organizations, and traveled to Morocco for two weeks to explore health issues there. For Edwards, the experience was a game-changer.
"A lot of times when we're learning about things in class in the US, there's this perception that whatever we're dealing with in America is what everyone else is dealing with," Edwards says. "Being removed from that, you can see it's not true.  That program put a fire under me, and I knew global health was what I wanted to do."
Edwards' dream job — for now — is to work at the Centers for Disease Control (CDC) in Atlanta. She'll be well on her way this fall, when she begins a graduate program in global health at Emory University with an internship at the CDC. She's ready for her next adventure, but she says she'll never leave the University of Washington behind entirely.
"There are people here who will remain an important part of my life," Edwards says. "Especially Kristina, who encouraged me to do so many things that I would've convinced myself not to do. She's been that person for many people. I don't know how I could ever repay her for all she's done for me."