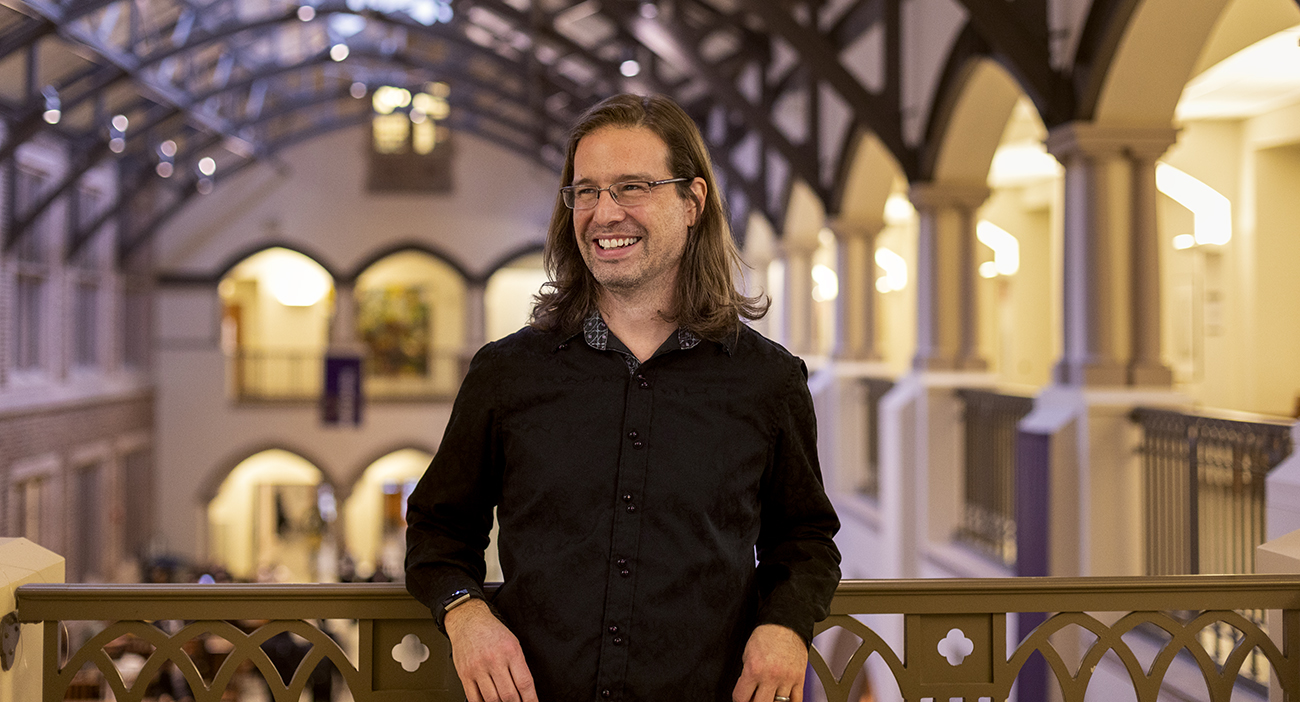 Television is ubiquitous in America, providing entertainment for millions of viewers. But for historians and media scholars, TV also provides insights into how American values and perspectives have changed over time. In a new Cinema & Media Studies course, "Race and US Television History," Stephen Groening explores the factors that have shaped our experience of race on TV.
Groening includes a wide range of television programs, mostly scripted, in the course. Some TV shows address race directly; others, despite being set in urban America, avoid racial content. That can be equally telling, says Groening, associate professor of cinema & media studies, who offers the sitcoms Seinfeld and Friends as examples. "Realizing what is not there is as important as what is," he says. "Looking at absences, what is not explicitly addressed, tells us something about how certain representations are avoided."
The course begins with the introduction of color television in the 1960s. Groening notes that the technology was geared toward white skin tones, to ensure that white skin would look aesthetically pleasing on screen. "In a sense, racism was built into the technology itself," he says. Sitcoms from that era — The Jetsons, My Favorite Martian, I Dream of Jeannie — reflect mid-century white America, from the country's growing fascination with space exploration (extra points if you remember that Jeannie's "master" was an astronaut) to the phenomenon of white flight from cities to more sanitized suburbs — or in the case of the Jetsons, sanitized housing in the sky.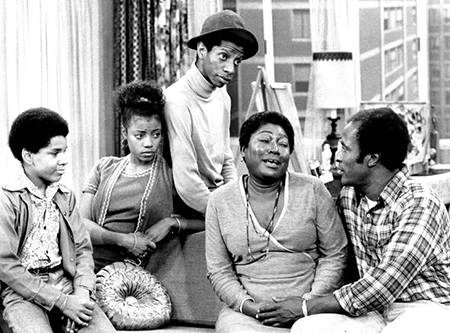 The 1970s saw a significant shift in television programming, with more shows featuring urban settings, people of color, and working-class families. All in the Family, a sitcom about a white bigot and his working-class family in Queens, ranked number one in the Nielsen ratings for six years. Good Times featured a Black cast and life in the Chicago projects. Chico and the Man became the first U.S. television series set in a Mexican-American neighborhood. One reason for this shift was television networks chasing younger viewers, who were more likely to be interested in civil rights issues and wanted to see television shows portray social change. Another factor was a revision in how TV viewers were counted, to correct a previous oversampling of rural viewers. More urban viewers meant more representation of urban life.
Looking at absences, what is not explicitly addressed, tells us something about how certain representations are avoided.
The emergence of cable channels in the 1990s ushered in another change in television viewing, with individual channels catering to specific demographics. A subscriber to Black Entertainment Television (BET), for example, could expect that most shows on that channel would have all-Black casts. "Once you having a rating system sorting people by racial and ethnic categories, you see programs that are more segregated," says Groening. "The 1990s feel like the 1950s, with noticeable segregation in programming."
It was during this era that Friends appeared. Groening believes the show's lack of diversity (an African American girlfriend was finally introduced late in the series) reflects TV's segregated landscape at the time, but also stems from a larger institutional issue: the hiring of writers and producers who all share similar backgrounds. Without diverse voices in the writer's room, opportunities for diverse storylines are lost. "I don't think the creators of Friends set out to create an exclusionary show," says Groening. "It just didn't occur to them that there were other possibilities."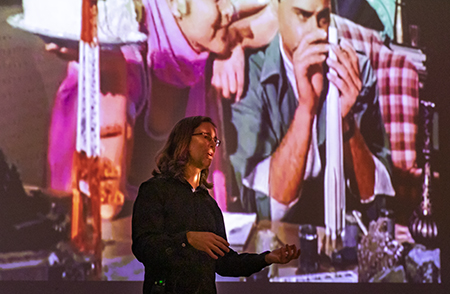 The situation has improved, but Groening still sees issues. "I would have expected more interracial couples in mainstream TV by now," he says, "but we haven't seen an increase in that compared to other eras."
Where diversity has been most evident, he says, is in competitive reality TV shows. Their casts are carefully curated to include people from a variety of backgrounds, in part to create conflict that keeps viewers interested and therefore keeps advertisers happy. For this reason, Groening includes the reality shows Survivor, Top Chef, and Project Runway in his course syllabus — among the few non-scripted programs covered in the class. He also discusses Oprah, a talk show that attracted a remarkably diverse audience. Host Oprah Winfrey has been described by scholars of race and television as a cultural touchstone for white people, serving as their African American best friend and making them feel better about themselves in discussions of race.
Watching episodes of Oprah and Survivor and Friends must seem like dream homework to UW students. But the students also read challenging academic articles, most of them written by and for scholars in the field of television history. Groening was steeped in such articles as he developed the course, and screened hundreds of TV episodes from dozens of television shows.
A few surprises emerged during all that TV viewing. One surprise for Groening was an episode of "The Courtship of Eddie's Father," a 1960s show about a widower seeking a wife, in which the white widower goes on a date with an African American woman played by Cicely Tyson. Neither character is aware of the other's race until they meet. "Most of the tension in that episode is unspoken," Groening says. "There's no dialogue explicitly about it."
That episode aired in 1969. The most recent show discussed in class is from 2006. American television has continued to evolve since then, but Groening will leave it to his students to debate more recent examples.
"The benefit of hindsight is important to a class about television history, because I want to present at least some historical context," Groening says. "But my hope is that through this class, I've given students tools they can continue to use when they watch."