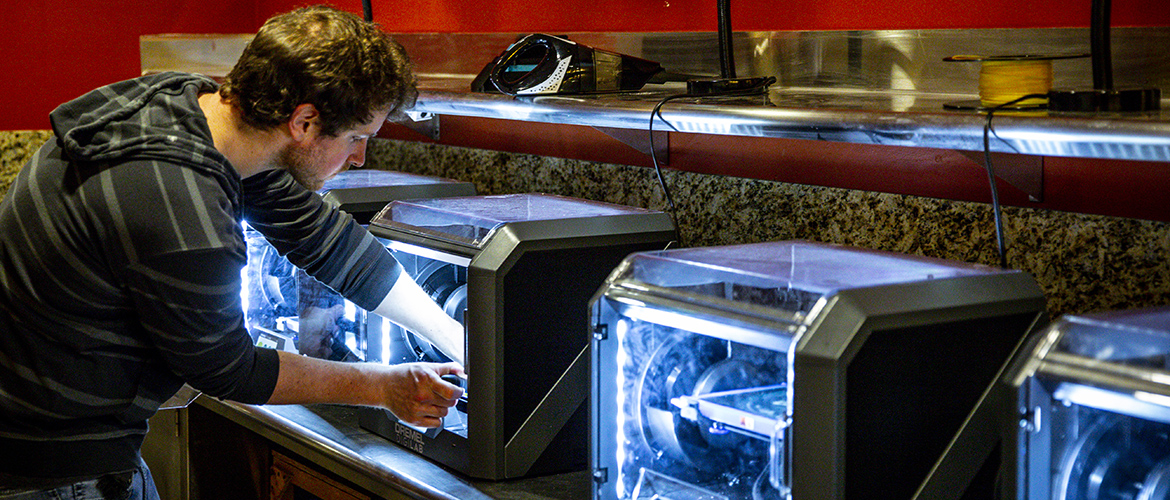 The emails started swirling in mid-March. Health care workers in Seattle desperately needed personal protective equipment (PPE) while treating COVID-19 patients, but there was a delay in receiving PPE from commercial sources.  After a local designer designed a face shield that could be produced on 3D printers, UW faculty and staff with 3D-printing capabilities were quickly recruited by email to address the short-term PPE needs of UW Medical Center and Harborview Medical Center.
"When I heard about this, I immediately volunteered," recalls Timea Tihanyi, senior lecturer in the School of Art + Art History + Design (SoA+AH+D). "I have the necessary equipment that could play a role in saving people's lives. It was a no-brainer."
Others in the College of Arts & Sciences also volunteered to help, including Professors Alshakim Nelson and Matt Bush in the Department of Chemistry; Alex Danilchik, scene shop manager in the School of Drama; and Derrick Van Kirk, lab manager of three makerspaces on campus, including one shared by the College's Department of Digital Arts & Experimental Media (DXARTS), the College of Engineering, and UW Housing & Food Services.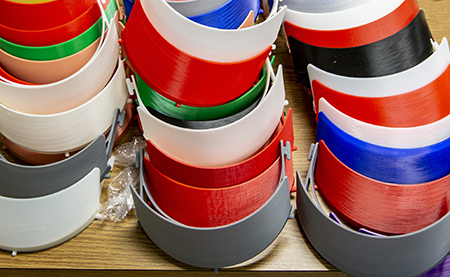 The volunteers produced the cradle (headband) for face shields, designed with three pegs for attaching a clear transparency sheet — the kind you can buy in any office supply store — to complete the front of the shield. The design also included a splash guard to keep material from entering from above. Here, the volunteers describe their PPE experience.
How many 3D printers does your department have, and how are they normally used?
Alex Danilchik: We have five in the School of Drama, though only one was large enough for printing the cradles. We use them to make scale set pieces — to help envision how a set would fit together before we build and load it into a theatre — and for smaller detail pieces, like a badge for a police officer's uniform. We also use them to make mechanical parts, such as a tube system that housed flowers that magically grew from the stage floor in one of this season's productions. We've had the printers for a short time, thanks to donors Dean and Tomilynn McManus, and we're still finding new ways to use them.
Timea Tihanyi: In my own art studio I have one 3D printer that uses plastic (plus others that use clay). Another printer for plastics was purchased for the Interdisciplinary Visual Arts (IVA) program through a Wyckoff Milliman Award, so students can experiment with 3D printing and digital manufacturing technologies. That printer arrived the week after we shut down and got locked into the mailroom. When the email came about the need for producing PPE, my program was extremely supportive of letting me use it, in addition to my own printer.
Alshakim Nelson: There are several research groups in the Chemistry Department that use 3D printers in their research. We either develop new materials to print with or create customized parts for our instrumentation. For this PPE project we used three FDM 3D printers with a large print bed — large enough to print three headbands in the same run.
Derrick Van Kirk: Across all three makerspaces we have 41 printers, which students use to print parts for class assignments as well as personal fun projects. DXARTS PhD students use printers in The 8 Maker Space for their research projects, which could be 3D-printed artworks or parts for artworks. Unlike many other spaces on campus, our space is open to all UW students. UW faculty and professional staff can purchase a membership for a nominal quarterly fee.
How many cradles were you able to produce?
Alex Danilchik: I printed the cradles from home, starting a new one about every three hours. My internal clock even woke me every three hours through the night to start a new print. My brothers have a slightly older version of this same printer, so I got them involved as well. We were able to make 60 headbands in the short time they were needed, before PPE from commercial sources arrived.
Timea Tihanyi: I created 69 cradles and delivered them to UW Medical Center in three or four deliveries.
Alshakim Nelson: Our printers were run continuously by Professor Matt Bush, graduate student S. Cem Millik, and chemistry staff members Nick Breen and Kevin Soderlund. Over 300 headbands were printed and transferred to UW Medicine.​
Derrick Van Kirk: At first we were running about 30 printers in all three makerspaces, and later about 35 printers, producing about 100 prints per day for a total of 1036 cradles. I had one staff member, graduate student Nick Durand, helping with this effort. The design of the piece made it rather easy to print. Most of the issues we encountered were just making sure that the printers continued to operate. A few times I had to take a machine apart to repair it.
How did it feel to be able to help in this way?
Timea Tihanyi: We were told that the medical staff began using them immediately. It was very gratifying. This model of grassroots distributed manufacturing was a game-changer during the first critical weeks of the pandemic as supplies from big industries were delayed or not available. And it was kind of exciting to know there were other people at the UW doing the same thing, even if I never met them.
We were told that the medical staff began using them immediately. It was very gratifying.
Derrick Van Kirk: It's been an amazing project to work on. It's been a lot of hard work, but it's been very important to me to have our spaces used to help the cause rather than sit silent as we are closed to students. This is an example of why makerspaces are important on college campuses.
Alex Danilchik: It's nice that we were able to take what we had available and put it to use to lower the risk for those working the front lines of treatment. I'd also like to acknowledge other School of Drama staff and alumni who are involved in providing PPE. Staff in the costume and scene shops have been sewing cloth face masks at home to be distributed to those in need, and our interim costume shop manager, Deborah Skorstad, has been helping with medical gown design ideas during this pandemic. Many recent grads are involved with similar efforts. It is always great to see how often many of those I work with in the theatre world show how much they care about people. They are usually some of the first to step up and help.
.    .    .
If others in the College have been involved with this 3D-printed PPE effort, we'd like to know! Please contact us at uwartsci@uw.edu.