Christine Lew was less than excited to attend the University of Washington. Financially the University made sense, but having spent her whole life in western Washington, she had hoped to study out of state. 
Then she arrived on campus.
"I fell in love with the UW almost immediately," she recalls. "As soon as I started, I realized how lucky I was to be at a university with so many resources and options."
Lew, who graduated in June, explored an impressive number of those resources and options. She majored in psychology and disability studies and minored in American Sign Language (ASL), participated in several research projects, studied abroad in Jamaica, and — for the past two years — served as director of the ASUW Student Disability Commission. 
"I'm absolutely exhausted," Lew laughs. "I don't want to go anywhere near a textbook for the next couple of years."
Growing Up CODA
Lew's first quarter on campus, she already knew she would study psychology. As a hearing child of Deaf adults (referred to as CODA), she was familiar with mental health challenges in the Deaf community and hoped to one day provide mental health services in American Sign Language. A particular area of interest has been identity development for hearing children raised by Deaf parents and Deaf children raised by hearing parents.  
I've loved working alongside student leaders who are...committed to making things better and more inclusive.
"There's a certain level of trauma that comes when you have an identity that your family does not have," Lew explains. "If you're a Black child of Black parents, you learn that identity from them and start to understand what it means to be Black through them. If I'm a hearing child of Deaf parents, I have to learn that hearing identity elsewhere. More challenging is a Deaf child of hearing parents having to learn what it means to be Deaf from other Deaf people. If they're surrounded their whole life by hearing people, loneliness and a sense of inadequacy can develop, which I think is important to highlight and understand."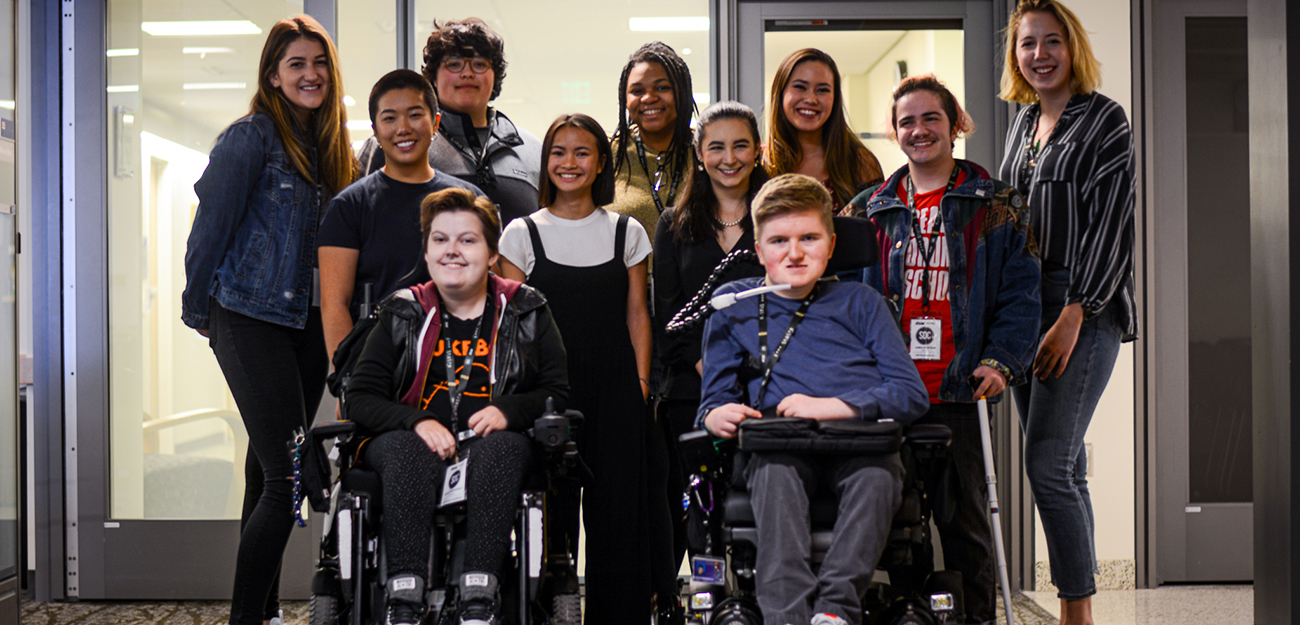 Lew is quick to note that while being a CODA has its challenges — since childhood, she has often served as interpreter for her parents — it also has been a blessing. "My parents provided me with a set of tools that I think most hearing parents couldn't, in terms of problem solving and innovation," she says. "And Deaf culture is incredibly complex and interesting. It's a blessing to be a part of it."
As an ASL minor, Lew further embraced Deaf culture. Fluent in ASL since childhood, she figured there was still more to learn. Yet it was humbling when her ASL placement test placed her in ASL 102. Though she was proficient in communicating, her vocabulary was limited and she had never learned sentence structure or the accompanying facial movements. 
"I hadn't learned true ASL, how to manipulate the language," she says. "There's a real beauty in that. Taking ASL classes opened my eyes to ASL literature and poetry and culture and so much more than I would have been able to understand on my own."
Lessons from a Pandemic
While she dug into the coursework for her two majors and minor, Lew also pursued multiple projects outside the classroom. Her first two years, she worked as a research assistant on a study of racial microaggressions through the Department of Psychology's Center for the Science of Social Connection. She later joined other research projects through Psychology and the Disability Studies Program. Her sophomore year, Lew also took on the role of assistant director of the ASUW Student Disability Commission (SDC), an advocacy group led by students. Her last two years at the UW, she was SDC Director. 
A major SDC project since 2018 has been Distance Learning Now, a campaign to increase remote access to classes. SDC points out that remote access benefits not just students with disabilities — a student whose power wheelchair breaks down, for example — but any student with a sick child at home, or car trouble, or an unanticipated scheduling conflict. When COVID emerged and remote access suddenly became the norm, it was an unexpected opportunity to learn firsthand its pros and cons.
"When the UW first went online with COVID, very few faculty used automatic captioning," says Lew. "Many Deaf and hard-of-hearing students chose to defer due to the difficulty of accessing their classes with an interpreter on another screen. On the other hand, there were students who had previously dropped out due to the challenges of attending classes who came back to the University now that classes were accessible to them. When students return to campus, SDC's goal is to maintain remote access for those who need it, to find a way to provide that flexibility long-term."
This work will continue without Lew, who graduated in June. After a short hiatus from academia — "no school for a while!" she insists — Lew plans to pursue an advanced degree in disability studies with the goal of working in disability services. First she hopes to earn her ASL interpreter certificate.  
Her parting message upon graduating was direct: Never underestimate students.
"Students are fierce," Lew says. "They are an amazing group of people to look at systems critically, identify what is wrong with them, and make them better. I've loved working alongside student leaders who are unsatisfied with the status quo and are committed to making things better and more inclusive. Knowing that those people, including myself, are going out into the workforce and bringing those ideas into companies and nonprofits and government agencies — it's just really exciting." 
.  .  .
Interested in supporting the Disability Studies Program? Learn how you can help.