This story is the second in a series on Black artists and scholars.
Valerie Curtis-Newton (MFA '96) has dedicated her entire adult life to the theater. She stirs up "good trouble" and courageously unmasks uncomfortable truths while sharing stories on the stage as a call for us to do the same.  Curtis-Newton is a nationally recognized Seattle-based theater artist and activist who serves as a director, professor, and Head of Directing and Playwriting at the UW School of Drama. She grew up as an Air Force kid in Hartford, Connecticut, enchanted by the power of storytelling and intimacy of the theater, an experience she originally sought out as a way to connect with community, or as she puts it, "to find my people."  She started acting just over 40 years ago and turned to directing while an undergraduate.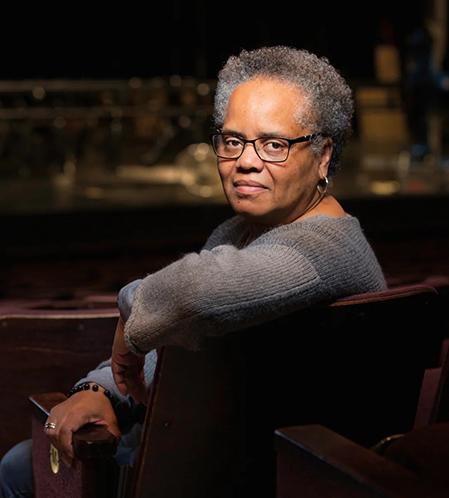 After years of working in theater including as Artistic Director for The Performing Ensemble of Hartford, Curtis-Newton enrolled in the MFA program at UW, expecting to return to the East Coast after graduating. As life would have it, she fell in love and later married her wife, Kim Powell, confirming her destiny as a Seattle resident.  In those early years she experienced the discomfort of cultural isolation and scarce opportunities to work in the plays she was interested in. Living in what was at the time the fifth whitest city in the country meant she was different from most professors, students, and theater practitioners. She began teaching at UW in 1998, and quickly learned that inserting Black playwrights into the curriculum would be a hard-won effort.
The few Black community artists Curtis-Newton knew sympathized with her circumstance. She acted by partnering with the local powerhouse theater artist Vivian Phillips. In 2006 they co-founded The Hansberry Project, named after A Raisin in the Sun playwright Lorraine Hansberry. Their mission was to support artists and stage Black theater productions, beginning with an early residence at ACT Theatre that lasted six years. Since 2012, The Hansberry Project has mainly operated as a resource for play development and theater productions within the local Black theater community. These resource structures have supported opportunities for unemployed union actors to work with small independent theaters and companies, while securing livable artist wages for non-union actors. This collaborative effort shifted the theater landscape in ways that didn't exist for Curtis-Newton when she started out. "[She] has been a force for many years," said Phillips. "Her sense of history that surrounds Black theater specifically has enhanced our understanding of the necessity to have authority over our own stories."
As Curtis-Newton's work across the country earned her national stage credits, she won more creative freedom in Seattle.  Over the last 40 years, she has directed and produced just shy of 80 regional, professional, and educational productions, readings, and workshops at Alabama Shakespeare Festival, Juilliard, Northwest Asian American Theater, the New York Theater Workshop, Capitol Repertory Theater, the Intiman Theater, and countless others.  Her directorial projects by Black playwrights include Christina Ham's Nina Simone Four Woman at Seattle Repertory Theater (with choreography by CD Forum Program Curator and former UW Department of Dance faculty Dani Tirrell), Alice Childress's Trouble in Mind at the Guthrie Theater in Minneapolis, and Donnetta Lavinia Grays's Last Night and the Night Before at Denver Center for the Performing Arts, which she will again direct at the Steppenwolf Theater in Chicago in spring 2023. 
I don't seek to find safe space. I seek to be brave in all spaces, and to tell the truth is the bravest act.
Curtis-Newton's work with local and national communities offers a meaningful presence in the UW community for prospective and current students alike.  She recently directed Suzan-Lori Parks' Father Comes Home from the Wars, Parts 1, 2 & 3 at UW's Floyd and Delores Jones Playhouse, which brought together a cast of local actors and crew with faculty, alumni, and students comprising the largest Black cast in a School production since her arrival at the University. Undeniably her leadership in the School has made a significant impact, though challenges remain. Inserting Black playwrights into the curricula has been a sustained effort, recognizing gaps not only in theater education but in attaining equitable resources for staging stories borne of Black communities.  "She is kind, outspoken, and cares deeply about the success of the School of Drama," says Performance Studies Professor Jasmine J. Mahmoud. "I have watched her mentor students and junior faculty (including myself), always with an eye towards excellence." 
Throughout her early career, Curtis-Newton courageously risked being barred from production spaces or resources because she challenged the status quo.  "I'm so in love with Black people that I want to give other people the chance to fall in love with us too," she says. The provocative and transformational promise of the theater invites audiences to expand their understanding of the whole human experience, so her unyielding action has been to address erasure from the canon. "For a long time, Shakespeare was elevated and everyone else was snuffed out," she explains, "but the problem isn't with Shakespeare or Chekhov, it's the absence of everything else, which is why a teacher could say to me [when she requested the inclusion of 'other' playwrights in the curriculum] that he didn't know any non-western roots of theater that merited study." She values strong writing by traditionally privileged white playwrights, but intentionally centers stories from Black, Brown, queer, and transgender communities in her curriculum and directorial work. She understands the importance of empowering the next generation of theater artists to enact the same agency. But she also asserts that colorblind casting or diversifying audiences will never be enough.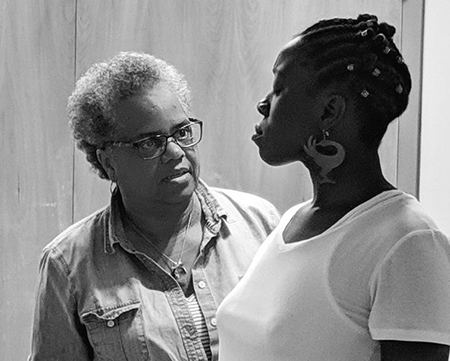 "We must create more opportunities for various [people] to share their vision of family, their vision of love, their vision of compassion, their vision of tragedy, their vision of betrayal," she asserts. Notably, her next Seattle Rep commission is to direct the complex story of an interpreter living on two sides of war in Afghanistan in Selling Kabul by Sylvia Khoury, opening on April 22.
Curtis-Newton has also nurtured her writing practice in the women's artist community at Hedgebrook on Whidbey Island, having done two residencies and formerly serving as Hedgebrook's Board President. One of her plays, The Rent Party, was included in the inaugural 2021 Hue Festival, a four-day digital program in response to Covid restrictions that featured readings of works by local women writers of color. The festival also included work by Jasmine J. Mahmoud, and Brown Soul Productions co-founder, producer, and dramaturg Alma Davenport, who Curtis-Newton lauds as an important advocate in Seattle's theater community.
Given her clear and unrelenting mission to work within and for her communities, it is no wonder Curtis-Newton has earned multiple awards for her efforts. Among them are the National Endowment for the Arts/Theater Communication Group Career Development Grant for Directors, the Gielgud Directing Fellowship from the Stage Directors and Choreographers Foundation, and being named a Seattle Times Most Influential Citizen of the last decade.
Curtis-Newton is also the honorary 2021 UW Faculty Lecturer – a program that will be delivered May 3rd on campus and via livestream.  "Valerie Curtis-Newton is an inspired artist, exemplary teacher, and committed leader who manifests the power of artistic witnessing," said Catherine Cole, Divisional Dean of the Arts. "Her former students say that she not only teaches the craft of directing and acting, she also cultivates qualities all artists should posses — 'how to build resilience, persist after failure, and how to name the fear in the room.'" 
While honored by these recognitions, Curtis-Newton offers in earnest, "I'd rather be an example than an exception; exceptionalism is a trap." Her focus remains in working to address concerns for young or 'emerging' artists entering the field, citing that contemporary plays are rarely funded beyond one or two productions. Now officially emboldened with increased support to center Black stories within theater education since the protests following George Floyd's murder, she cautions that "we have been teaching what they want, but not what our field needs." She actively seeks ways to create sustainable support for long-term career survival for theater artists.
Her impact continues through The Hansberry Project, teaching, and directing, clear in her mission to bravely unmask hidden truths, for the love of her people, storytelling, and the theater. Her work in Seattle and across the nation embodies the true aims of equity — on the page, within community, and on the stage.  This is hard and sometimes uncomfortable work, which she embraces with an unfaltering and eager commitment.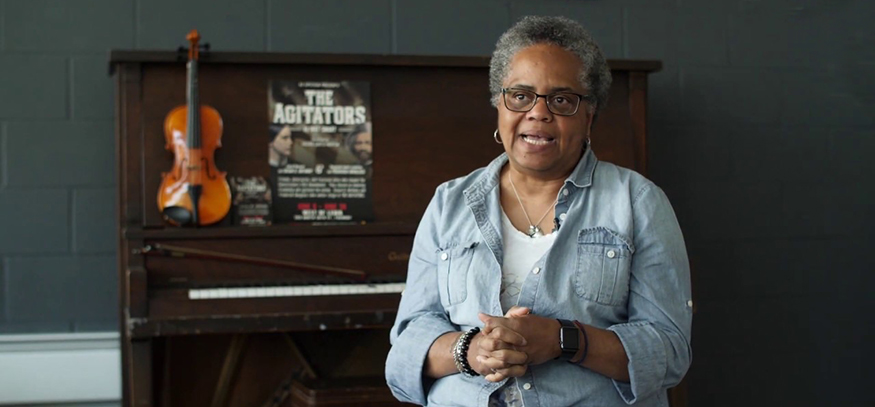 "I look to artists for truth, reconciliation, and repair, and that truth is not necessarily about beauty," said Ed Taylor, UW Vice Provost and Dean of Undergraduate Academic Affairs. "Every time I go to see something that Valerie Curtis-Newton puts on I feel troubled, and I say to her 'I hate that you did this to me, and I'm grateful that you did this to me.'"
The theater is for her a space that invites risk, integrity, and courage. "We are not in comfortable times," she concedes. "But stay brave. You can't be safe and get into 'good trouble'. I don't seek to find safe space. I seek to be brave in all spaces, and to tell the truth is the bravest act."
Berette S Macaulay is an interdisciplinary artist, independent curator, and writer based in Washington. She currently serves as Art Liaison Program Manager at Henry Art Gallery, the Curatorial Fellow at On the Boards, and founder and lead organizer for Black Cinema Collective, a project of i•ma•gine | e•volve. www.berettemacaulay.com
Macaulay spoke with Valerie Curtis-Newton by Zoom and phone interviews for this series. Community quotes were provided upon request by the writer. All images are courtesy of the artist.