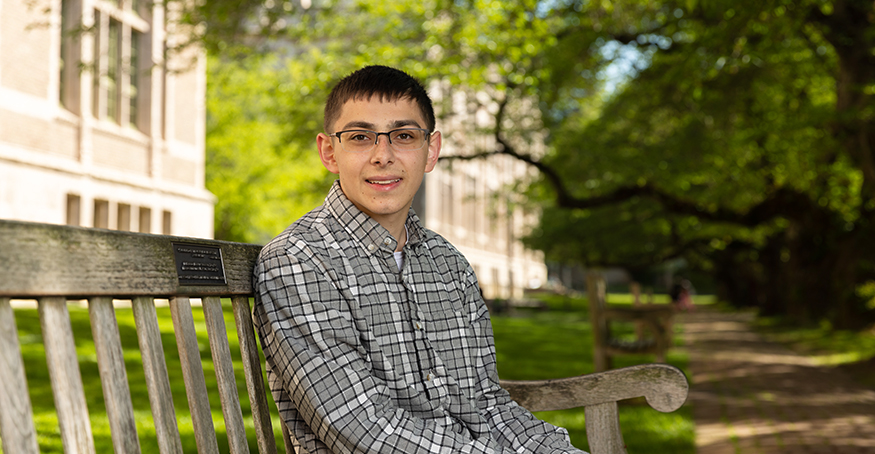 University of Washington senior Hayden Goldberg has the ear of the dean of the College of Arts & Sciences more than almost anyone on campus.
For the past three years, Goldberg has met with the dean — first Robert Stacey, then Dianne Harris — every two weeks during the academic year as a member of the Arts & Sciences Advisory Council for Students (ASACS). The council, made up of students from across the College, weighs in on a wide range of issues related to the student experience.
"It's been a great space for me to learn about the College and how it functions," says Goldberg, currently chair of ASACS. "I've seen the constraints the College faces. The question is how to make improvements within those constraints. That's what I've been trying to do over the past three years."
Goldberg, who graduates this month from the College of Arts & Sciences, is a perfect fit for this advisory role given his broad interests and activities at the UW. An Interdisciplinary Honors student with a double major in political science and economics, he also has been active in a student group focused on neuroscience accessibility and outreach. He has studied abroad and participated in independent and faculty-led research outside his major. Through summer internships with Common Power and the Civil Rights Justice Center, he has explored voter rights and the legal world.
"I have hard time saying 'no' to stuff," Goldberg explains. "If an opportunity seems interesting and I have time for it, I'll go for it and see what happens."
Discovering Grey Matters
Goldberg got an early start at the UW, arriving on campus through the Robinson Center for Young Scholars' Early Entrance Program after eighth grade. Students in the program begin with Transition School — a one-year college preparation program — before matriculating. Goldberg planned to pursue an engineering degree after Transition School, but he soon realized his interests lay elsewhere. He majored in political science and economics but also sought opportunities far beyond those academic fields.
One of Goldberg's most memorable UW experiences has been his involvement with Grey Matters, a student group dedicated to simplifying complex neuroscience topics for a broad audience. The group publishes a quarterly journal, produces podcasts, provides outreach to K-12 schools, and organizes an annual campus event.
Goldberg learned about Grey Matters through a chance conversation with a fellow student who was involved with the group, Goldberg was intrigued. "I asked the student, 'Hey, does the journal need editors?'" he recalls. They did. His freshman year, Goldberg began editing stories written by other students and later became involved in planning Grey Matters' annual event, An Evening with Neuroscience. He eventually took on the daunting task of writing articles for the journal, despite having no background in neuroscience.
Goldberg explains that the journal's writers needn't be directly involved with neuroscience research. Grey Matters articles synthesize existing primary literature, with the goal of making it accessible for a broad audience. "I've written two articles for the journal, and they've been some of the most challenging things I've done at the UW since neuroscience is so complex," Goldberg says.
Embracing Research Opportunities
Always eager to learn something new, Goldberg also pursued diverse research projects. For his first, he provided data analysis for a political science doctoral student who was looking at the reasons why countries exit treaties. Then Goldberg helped Adam Warren, professor of history, with historical research on the Yale Peruvian expeditions in the early 1900s to excavate Machu Picchu. Goldberg analyzed primary source journals and diaries, focusing on how expedition members interacted with the Indigenous populations in Peru.
I like having this wide breadth of experiences. It means I can connect dots in so many different places, which I really enjoy.
Goldberg has done independent research as well, analyzing the use of metaphors by the British press in its reports on COVID-19, and how that language shaped perceptions of the pandemic and its consequences. The research was inspired by a comment from Amanda Friz, assistant professor of communication.
"I was in her honors class on the rhetoric of health and medicine," Goldberg recalls. "She put the thesis paragraph of a paper I'd written on the board and said, 'With more work, this could be published.' During office hours, I asked if she was serious. She said she was, so I asked, 'Can you help me make that happen?'" The project has been ongoing for more than a year. Goldberg hopes to submit the paper to a peer-reviewed journal by graduation.
 "I like having this wide breadth of experiences," Goldberg says of his many UW projects. "It means I can connect dots in so many different places, which I really enjoy."
Dialog with the Dean
Nowhere has Goldberg learned more about connecting dots than in his role on the Arts & Sciences Advisory Council for Students. He responded to the Dean's Office's call for students because "I like to understand why things are the way they are," he says. "I ask 'why' a lot."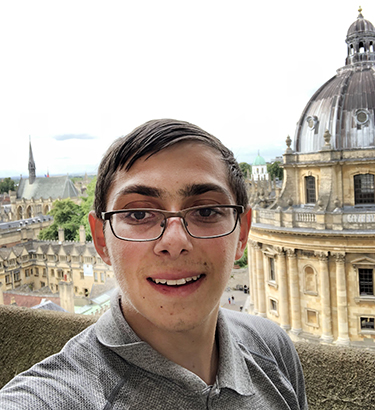 Goldberg has asked that question often in ASACS meetings with the dean. "A lot of people are hesitant to voice their opinion to someone who's in a position of power," he says. "This has been an opportunity to do that on a regular basis. It's really informal. If the students see something we think could be better, we can say, 'Hey, can we fix this?'"
Sometimes the answer is yes. But often there are complicating factors, from finite resources to the impact on other campus units. "I think the administration does hear us and does care," Goldberg says, "but sometimes what they can do is limited."
That's been a lesson in itself. "My ASACS work and my economics coursework have taught me how to work within existing systems," Goldberg says. "Idealism is great, but idealism is not practical and I'm a results-oriented person. I want to see things implemented. These experiences have taught me how to approach change so implementation will happen."
The skills Goldberg has developed will come in handy in his future career as a lawyer with a focus on voting rights. But first he will attend Oxford University this fall for its Social Science of the Internet master's degree program, gaining skills he believes will be valuable as an attorney. He previously studied at Oxford for two quarters in 2022 — just one more piece of his undergraduate experience.
"I've been pushed and challenged in a lot of different ways," Goldberg says of his time at the UW. "It's definitely taught me how to think and how to approach the world."