International student Jiaqi "Kyki" Li had a rocky start as a UW freshman. She stayed up most of the night trying to complete her first class assignment — 60 pages of reading and a two-page response essay — but was unable to finish. She came to class the next day empty-handed.
"I felt very defeated," recalls Li, from Shenzhen, China. "But when I talked to my professor, she understood that it was my first college class in a second language and a new country. She pointed me towards the Odegaard Writing & Research Center (OWRC) for help."
Li (BA, Dance, Anthropology, 2018) got that help, and the following year become a tutor at OWRC. She went on to complete two majors, perform in dance concerts, pursue dance research, receive three academic scholarships, and study abroad in Mexico, Jordan, and Italy. Simply put, she thrived after her inauspicious start.
Li arrived at the UW with plans to major in business and psychology, but courses in anthropology and dance changed her mind. A class taught by Michael Peréz, senior lecturer in the Department of Anthropology, was particularly compelling. "He is just so brilliant and completely changed the way I view not just anthropology but also everything else," Li says. "We covered a lot of topics that became very important for me, including race, identity, collective memory, violence, and culture."
Everything I learned over the past four years has been pivotal and preparational for what is coming next.
Dance classes also captivated Li. She had danced in China, but had little experience with Western styles of dance.  She started with a class in jazz, then studied ballet, modern, contact improvisation, tango, and salsa. A class on cross-cultural dance introduced even more styles, including capoeira, hula, flamenco, butoh, and West African dance. "The Dance Department doesn't teach dance just as technique, but rather as a way of viewing and interacting in the world," Li says. "Dance becomes a way to connect with people, to learn about a culture, and that is just very inspiring for me."
Li also completed a research project in dance, which she presented at the UW's Undergraduate Research Symposium. With dance professor Juliet McMains as her adviser, she comparatively traced the ways yoga practice has adapted, merged, and changed with the larger cultural context in the United States and China.
A summer study abroad program in Oaxaca, Mexico, provided another opportunity to explore dance. Led by UW Bothell lecturer Diana Garcia Snyder, the program focused on the socio-economic and political context of indigenous grassroots activism, as well as dance and movement training. Students had opportunities to join with the local community in redefining and celebrating indigenous identities and traditions.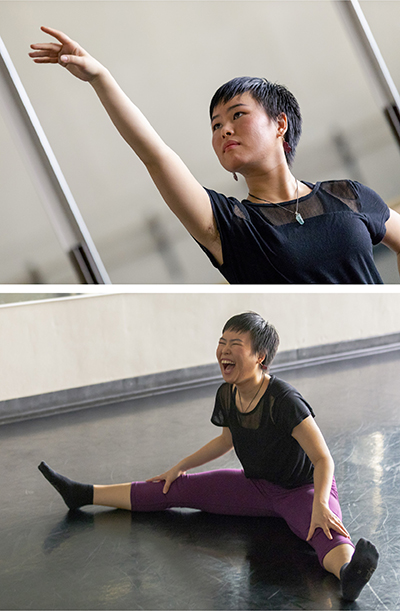 Through a Department of Anthropology study abroad program, Li also traveled to Jordan, where she volunteered with local doctors at a Palestinian refugee camp. "I got to learn colloquial Arabic, and I was able to build connections with local doctors who spoke about how they go about their lives in a place that's so close to a war zone," Li says of the program, led by Peréz. "The class also visited the border between Jordan and Syria. I was able to stand on the top of the mountain and hear the bombs coming from the Syrians' side and realize that we were safe on this side of the border but people over there were suffering. That was a very emotional moment for me."
Back on campus, Li has continued to work as a tutor at the Odegaard Writing and Research Center. She is thankful that a professor pointed her there as a struggling freshman. "It's been such an important part of my college life," Li says. "I've been able to be on both sides at the same time. I've been a student going after deadlines and trying to write research papers, but also a tutor trying to help other students who are pursuing the same goals."
After graduating this month, Li will attend several dance festivals in the U.S. and abroad. She hasn't planned much beyond that — she's been too busy with final projects, including a collaboration with students from other arts disciplines. Together they are exploring new ways of presenting dance, from an online gallery that documents the process of making a dance to a zine that delves into how to view modern dance. Li received a Mary Gates Leadership Scholarship to pursue the interdisciplinary project; she also has received a Dance Program Scholarship and the Dance Department Summer Study Award during her time at the UW.
Not bad for a student who tanked her very first college assignment.
"Everything I learned over the past four years has been pivotal and preparational for what is coming next," Li says. "The resilience, the passion, the ability to work hard, the ability to learn to check in with myself, the ability to adapt…all of those are transferable skills that will be very important no matter where I go."
. . . 
Learn how you can support College of Arts & Sciences students like Kyki Li.