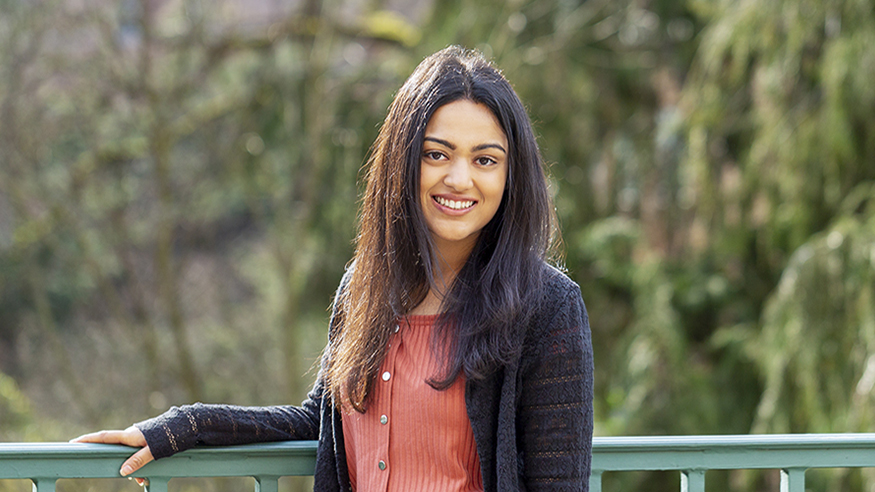 Ask UW senior Ishira Parikh to sum up her University of Washington experience, and she's likely to hand over an interactive K-12 biology curriculum she developed with a team of fellow undergraduates.
Parikh, a biology and disability studies major, began working on the curriculum during her freshman year. She has since revised and expanded it several times, incorporating insights gained through her UW academic and volunteer experiences. This spring the curriculum will be published and made available to underfunded K-12 schools at no cost.
iGEM Inspiration
Parikh arrived at the UW as a pre-med student with a love of biology. Her second quarter on campus she joined Washington iGEM (International Genetically Engineered Machine), the UW chapter of a worldwide synthetic biology competition. That decision would shape the rest of her academic career.
"iGEM is an awesome global collaborative community," Parikh says. "I joined because I thought it was amazing that undergraduates were working together on research projects, and I wanted to be part of the global community."
Soon after joining iGEM, Parikh spent spring break in Yakima through the UW's Health Care Alternative Spring Break program, shadowing health care professionals and speaking with high school students about higher education. Seeing the impact of poverty in the Yakima clinics and school she visited, Parikh returned to Seattle with a greater awareness of inequities in health care and education.  That's why, when Washington iGEM sought an Outreach Lead for community engagement, she agreed to take on the role.
It's been amazing to me how many students are passionate about working on this project.
"Initially, I joined iGEM to do research, but I quickly discovered that community engagement was more interesting to me," says Parikh, who explains that all iGEM projects have an outreach component. She decided to target underserved schools in the Seattle area, providing lessons related to synthetic biology — biology focused on reengineering or modifying biological systems. "To do that, we needed a curriculum with hands-on activities," Parikh says. "That's how everything started."
An Evolving Project
Leading a team of six undergraduates, Parikh spent that summer creating the curriculum. The team worked tirelessly to develop hands-on lesson plans, share them with K-12 teachers, and incorporate the teachers' feedback in revisions. In addition to contacting local teachers, Parikh tested the curriculum at a school in Ahmedabad, India while visiting her grandparents there.
By October of Parikh's sophomore year, the team had a 100-page curriculum, which they submitted to the annual iGEM competition in the "Best Education Public Engagement" category. The project didn't win or place, but Parikh was not deterred.
"Creating the curriculum was not about getting an award," she says philosophically. "The recognition would have been nice, but I didn't think the curriculum was done. Not by a long shot."
After a hiatus, Parikh was ready to further develop the curriculum. In the meantime, she had taken several Disability Studies courses, volunteered with the Special Olympics, conducted biotech research, and volunteered with a pediatrician specializing in children with intellectual and developmental disabilities. The insights gained through these experiences informed her curriculum work.
"As I was getting more and more into disability studies, I began focusing more on accessibility," Parikh says. One example: To make the image-heavy curriculum more accessible to the visually impaired, the iGEM team added audio activities.
"The goal of universal design is to design something that's inclusive to everyone," says Parikh. "It's a little bit aspirational because everyone is going to have their individual needs, but the goal is that everyone in a classroom is able to participate."
A Global Reach
With their revised curriculum — by then 220 pages — Parikh's team once again entered the iGEM competition. This time they won the Best Education and Public Engagement Global Award, a special award announced at the end of the competition.
"It was an absolute shocker," Parikh recalls. "We were not expecting that."
Since receiving the award, Parikh has not slowed down. The curriculum is now a whopping 400 pages, with 19 lessons on 17 topics. iGEM participants from around the world have offered to contribute to the effort; with their help, the curriculum has been translated into a dozen languages and tested with students from Puerto Rico to Ghana. The project has been formalized as a nonprofit, Synbio for Everyone.
"This curriculum has definitely been a team effort," Parikh says. "It's been amazing to me how many students are passionate about working on this project and have put in so many hours to get it done."
The scholarship support...has allowed us to keep going and make everything we've had in mind become a reality.
Parikh credits the UW's Disability Studies Program as an important ally — particularly mentor Stephen Meyers, assistant professor of law, societies & justice and international studies and a core faculty member in Disability Studies. "Everyone in Disability Studies has been so willing to help," she says. "And Dr. Meyers has been amazing, supporting me in any way possible, whether helping me set up a qualitative research project or apply for grants."
Parikh has received a UW Mary Gates Leadership Scholarship, a UW Mary Gates Research Scholarship, a Marcy Midgal Fellowship for Educational Equality (UW Jackson School of International Studies), and a Harlan Hahn Endowment Grant (UW Disability Studies), providing much-needed financial support for publication of the curriculum. The awards have also provided a psychological boost.
"Working on the curriculum hasn't always been easy," says Parikh. "The scholarship support let me know that other people think this work is important, that they want to help get this project off the ground. It's what has allowed us to keep going and make everything we've had in mind become a reality."
Despite all that the Synbio for Everyone team has accomplished, Parikh says the group's work is far from complete. When she graduates in June, other students will continue the effort, expanding the curriculum to include chemistry and physics content. Parikh, who plans to take a couple of gap years before attending medical school, will serve as an adviser on the nonprofit's board of directors.
"It's the first time I'm letting go, with other people steering the direction this takes," says Parikh. "I know they're going to do a fantastic job."