One undergraduate course. Sometimes that's all it takes to change a student's path. To change their life goals. And then to change the lives of others. For Anthony Stokes, that class was LSJ 200: Introduction to Law, Societies, and Justice.
Stokes, who graduated in June with a double major in law, societies & justice (LSJ) and political science, planned to major in business at the UW. But LSJ 200, in the Department of Law, Societies & Justice, started him on a journey to understand and improve the criminal justice system and help those caught up in it.
"That course helped me find a passion within myself around criminal justice work and social justice work," says Stokes, who plans to attend law school in the fall. "Given the issues the Black community faces — issues that have affected me and the communities I've lived in — I was already interested in social justice, but that class made me realize the kind of work I want to do."
Motivated by Prison Visits
For Stokes, the study of criminal justice has gone beyond the theoretical. Through LSJ opportunities and local internships, he has visited prisons, met with numerous incarcerated men, and worked with attorneys on court cases.
Stokes's first experience with prisons was during a study abroad program that compared prison systems in the US and South Africa. First the UW group toured a unit of Washington state's Monroe Correctional Complex, where they spoke with inmates who had started prison reform programs. Then the group traveled to Cape Town, where they attended a restorative justice session at which juvenile offenders discussed their crimes and the pain they had caused.
That Cape Town session was emotional for all involved, Stokes says. But he was also affected by what came next. During a break, some of the inmates approached him to chat. They talked about sports but also asked why he had wanted to visit South Africa and become a lawyer.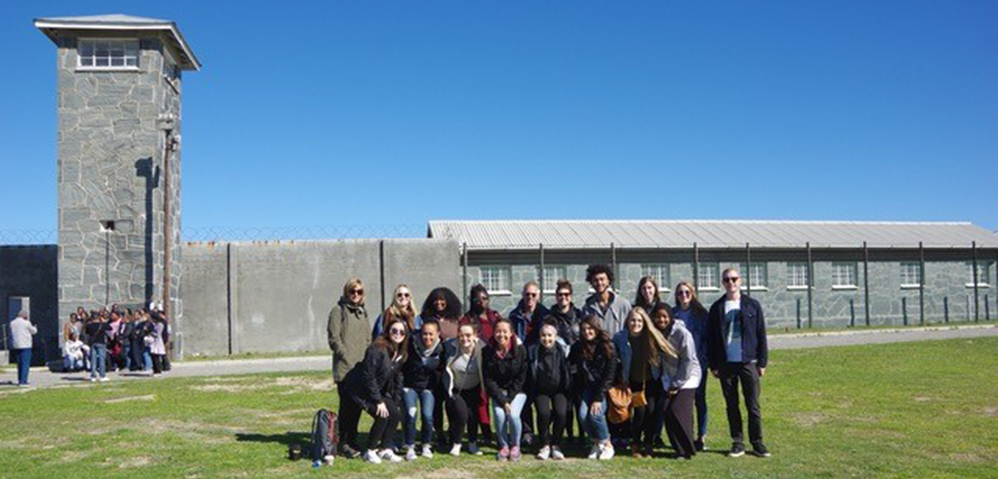 "I was from a different country, but we look like each other and that made them more comfortable," Stokes recalls. "They just wanted to talk. The incarcerated population gets a very negative stigma, but I saw that they are people too, and like all of us, they are better than the worst thing they've ever done. That experience really changed my life."
Returning to the States, Stokes was eager to do more. He began to work on several prison-related research projects with Steve Herbert, Mark Torrance Professor in the Department of Law, Societies & Justice. He also joined LSJ's book club, reading an assigned book each month and meeting with inmates at the Monroe Penitentiary to discuss it. (Since COVID, the book club has been on pause.)
A Course with High Stakes
This past year Stokes has been involved in his most ambitious criminal justice project yet, thanks to an innovative three-course sequence in LSJ. Developed by Herbert, the class pairs students with attorneys to petition for the release of incarcerated individuals who were charged as adults when they were juveniles. Some have been in prison for decades.
Last fall, in the first course, Stokes and his classmates learned about the petitioning process, juvenile brain development and culpability, risk factors that change with age, and other information pertinent to a parole petition. Then Herbert divided the students into nine small teams to work with attorneys — all LSJ alumni — on specific cases.
Stokes and a classmate have been working with attorney Tanya Fekri (BA, LSJ, Political Science, 2010), director and supervising attorney of UW Student Legal Services, on the petition for a 43-year-old inmate who has been in prison since his teens. Stokes communicates with the client regularly.
"We check in, see how he's doing, and provide updates on the work that we've been doing," says Stokes. "Through our meetings, we not only build a relationship, but also — as it gets closer to the date of him going before the board — make sure his reentry plan for what happens after his release is as solid as it should be."
Recently the client of another LSJ team had his parole hearing. He received a favorable decision from the juvenile parole board and will soon be released from prison. Stokes hopes for a similar result when his client's case is decided in the fall.
Two Sides of Legal Work
Along with this LSJ course and project, Stokes worked at two internships in Seattle. He started with an internship in the King County Prosecuting Attorney's Office last year, then added a concurrent internship with the Federal Public Defender Office, Western District of Washington. As a future attorney, he wanted to experience both sides of legal system to see where he could have the greatest impact. So far, he remains undecided.
"Right now I'm in the stage where I just want to be a sponge and soak up information and experience all I can, to help make a decision further down the road," he says.
The incarcerated population gets a very negative stigma, but...like all of us, they are better than the worst thing they've ever done.
In the Public Defender Office, where investigators had been working on the case of death row inmate Brandon Bernard for close to a decade, Stokes had the opportunity to sit in on calls with Bernard and speak with him directly. "He was calm and gracious," Stokes recalls. Unfortunately the team was not able to postpone Bernard's execution, which took place last December.
"It was very hard for the office because that was the first client they had lost," Stokes says. "It definitely had an impact on me. It was another motivator for me to keep pursuing change in the justice system."
The next step for Stokes, who was president of the UW Pre-law Black Law Student Association, is law school. Thanks to his opportunities at the UW, he will arrive with considerable experience.
"When I tell people what I've been doing, they're surprised about how hands-on it is," says Stokes. "Some of it is work that a law student or even a lawyer could be doing. I definitely feel fortunate to have had the experiences I've had. I feel like it's molding me to be the type of attorney — and person — I want to be."