"Three humanists walk into a bar. Each one is asked to discuss the same topic," says Sarah Stroup, professor of classics.
What sounds like the setup for a punchline is actually Stroup's colorful description of the UW's Humanities 101 course. Faculty from three humanities departments provide their own take on a broad topic (no saloon involved), providing insights into the humanities and their specific area of study. The course is part of Humanities First, a new program that introduces first-year students to the humanities.
"Very few high school students come into the University knowing what the humanities are," says Stroup, director of Humanities First.  "They might stumble into one of our classes as a junior and then discover they love it, but it's usually too late to change their major. They might tack on a humanities minor and take as many classes as they can, but it's a missed opportunity."
A Focus on Meaningful Questions
Such missed opportunities, coupled with a changing landscape for the humanities nationally, led the UW Humanities Division to rethink its approach. After the Great Recession in 2008, humanities departments across the country experienced a steep decline in majors. Enrollments are rising again at the UW, but those fluctuations shed light on ongoing challenges.
"The humanities at the UW have had an identity problem — in that we didn't have an identity," says Stroup. "It's not that students don't like us. It's not that our content isn't interesting. It's that we were unintentionally hiding from students."
UW sophomore Piper Thomas admits she had only a vague understanding of the humanities prior to enrolling in Humanities First last fall. Now she appreciates the humanities' distinct approach to exploration. "It was neat to learn more about what 'the humanities' actually is — essentially a way of looking at the world with the human experience at the forefront," she says.
Stroup adds that the humanities tend to be characterized by an emphasis on texts, a focus on questions and problems of human society, and an approach that is critical and speculative rather than empirical. "We tend to focus on finding meaningful questions rather than definitive answers," Stroup says. "That can be a huge shift for students who — coming out of high school — equate success with getting the 'right' answer."
Creating Community — at a Distance
To encourage students to explore the humanities earlier in their UW education, Brian Reed, divisional dean for the humanities, began planning Humanities First several years ago with support from the Andrew W. Mellon Foundation. Reed tapped Stroup for a leadership role in the effort; together they recruited a planning committee with faculty from nine UW humanities departments.
The result is a three-course sequence — Humanities 101, 102, and 103 — for first-year students. Humanities 101 is team taught, with three faculty presenting discipline-specific content on a shared topic. Humanities 102 and 103 focus on Indigenous and Asian American authors respectively, with an emphasis on field trips to related cultural sites.
We tend to focus on finding meaningful questions rather than definitive answers. That can be a huge shift for students who ... equate success with getting the 'right' answer.
"Students can go through four years at the UW and never read a book by an Indigenous author or know anything about local Indigenous history," says Stroup. "The same is true for Asian American literature and history. We saw an opportunity to change that."
In its inaugural year, the topic for Humanities 101 was journeys. Stroup focused on The Odyssey, Homer's tale of Odysseus's journey home following the Trojan War. She paired the classical novel with Thank You for your Service, a contemporary book about veterans returning from Baghdad.  Lauren Poyer, assistant teaching professor of Scandinavian studies, focused on Viking sagas and pilgrimage tales for her portion of the course. Christopher Hamm, professor of Asian languages and literature, introduced ancient to contemporary Chinese poems and short stories about journeys. Through these three faculty, students experienced how different disciplines explore a similar topic, and where their interests intersect.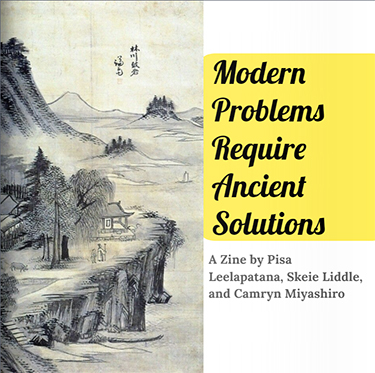 COVID meant revising the course to be taught online. The faculty added a team-based project to encourage interaction between students who could not meet in a physical classroom. In their teams, students created digital content — a web-based zine (digital magazine) or Instagram posts — that incorporated what they'd learned in class. One team created an online role-playing game modeled after characters and storylines in The Odyssey. Another created a travel zine in which a fictional traveler chronicles her time in Iceland, featuring places Poyer discussed in her class sessions. Other groups focused on mental health, posting Instagram stories that referenced literature studied in the course. 
"Initially, students and even some faculty weren't sure that something like Instagram could be in any way academic or deal with serious content," says Stroup. "But the students used it brilliantly. The results were so impressive."  
For Thomas, the most memorable group project involved sharing team members' individual journeys since entering college on Instagram, to engage high school students in thinking about future paths. "I learned a lot about managing groups as well as setting realistic goals for a project," Thomas says of the group assignments. "And the exercises involved helped me to better summarize complicated things into simple explanations."
A Humanities Identity
Last fall, 83 students enrolled in Humanities 101. More than half chose to continue the course sequence in winter and spring quarters, earning the designation "Humanities First Scholar." Now 17 of those Scholars have signed up for a Humanities First internship, through which they will mentor incoming Humanities First students.
As they guide the new students, the mentors will relive much of their own experience, but with a different Humanities 101 topic this year — health & wealth — and a new team of faculty from linguistics, English, and music history.
Another difference: class sessions will be in person. This change will be particularly significant for Humanities 102 and 103, built around field trips. Last year those field trips were held virtually due to COVID, incorporating online visits to museums and other sites that offered a robust digital presence. This year in-person field trips are planned, with visits to campus sites such as the Burke Museum, Henry Art Gallery, and University of Washington Press, and regional destinations including the Wing Luke Museum, Duwamish Longhouse and Cultural Center, and Kubota Garden.
Despite these changes, the overall goal of Humanities First remains the same: to prepare first-year students for success at the UW while instilling an appreciation for the humanities. Stroup believes the program is already succeeding on both counts.
"These were some of the most impressive students I've ever taught," Stroup says of the inaugural cohort. "By winter and spring, they were incredibly independent and confident and that's all I ever want in a student — though I also hope they will to continue to be a part of the Humanities First community. I hope they will have this humanities identity no matter what major they choose."