When Anu Taranath led a study abroad program in Mexico this summer, the focus was LGBTQ issues. But the group also discussed migration. And xenophobia. And politics. And health. And numerous other related topics.
"Nothing happens in isolation from anything else," explains Taranath, senior lecturer in the Department of English and Comparative History of Ideas (CHID) program. "We are trained not to see the connection between things. Once you start seeing the connections, it's illuminating but also can be overwhelming. 'This has everything to do with that? My god!'"
Taranath co-led the month-long study abroad program — LGBTQ Communities, Public Health, and Migration in Mexico — with alumnus Rafael Velazquez (BA, American Ethnic Studies, Political Science, 2010), director of HIV services at the Instituto Familiar de la Raza in San Francisco. Velazquez already had connections with several LGBTQ organizations in Mexico City, and he and Taranath reached out to dozens of others, inviting them to partner with the UW. Sasha Duttchoudhury, program assistant in the Department of Anthropology, also contributed to the program.
During their stay in Mexico, the class met with 30 partners, some individually and others in roundtable discussions that covered everything from transgender women in prison to the impact of Trump's presidency on human rights work in Mexico. "Each of our interactions stretched our understanding," says Taranath. "All of it was related to queer and trans issues, but from slightly different angles."
Before traveling abroad, the class met for one week on the UW campus. It was an opportunity for students to explore their own lenses on the world — and understand how those lenses might color their views — before hearing from their Mexican partners. Taranath believes such self-reflection is crucial to understanding other peoples' experiences of the world.
"We make sense of the world through stories," she says. "We tell stories about ourselves, our families, our communities and our nation, stories about who is deserving and who is not. Our program helped us examine these stories and ask ourselves, 'Why do I think what I think? How do I know what I know? Who does that story I've been telling myself serve, and who might it hurt?'  Such simple questions can be dramatically profound."
The more we learn from one another, the stronger our movements, the stronger our analysis, and the stronger our connections.
By the time the group arrived in Mexico, students had become practiced at asking questions about themselves and others. In conversations with Mexican LGBTQ activists, they learned that migration is at the heart of all human rights work in Mexico and that migration is exponentially more difficult for queer or transgender individuals. They learned how migration impacts social services in Mexico City, and what it means to be resilient and resist oppression.
"The way the topics and questions spiraled was overwhelming at times," recalls participant Sarah Wolf, a CHID major. "Power and oppression are inextricably linked and that connection leads to a never-ending line of questions about why things are the way they are and what we can do to change them."
Wolf knew what she was getting into when she signed up for the course. She had been in other classes taught by Taranath and appreciated her teaching approach. Wolf also had a personal connection to the course content. "As a queer person, the program was an important opportunity to engage with queer communities in a different context than Seattle," she says, noting that CHID's LGBTQ-focused study abroad program is one of just two such programs in the U.S.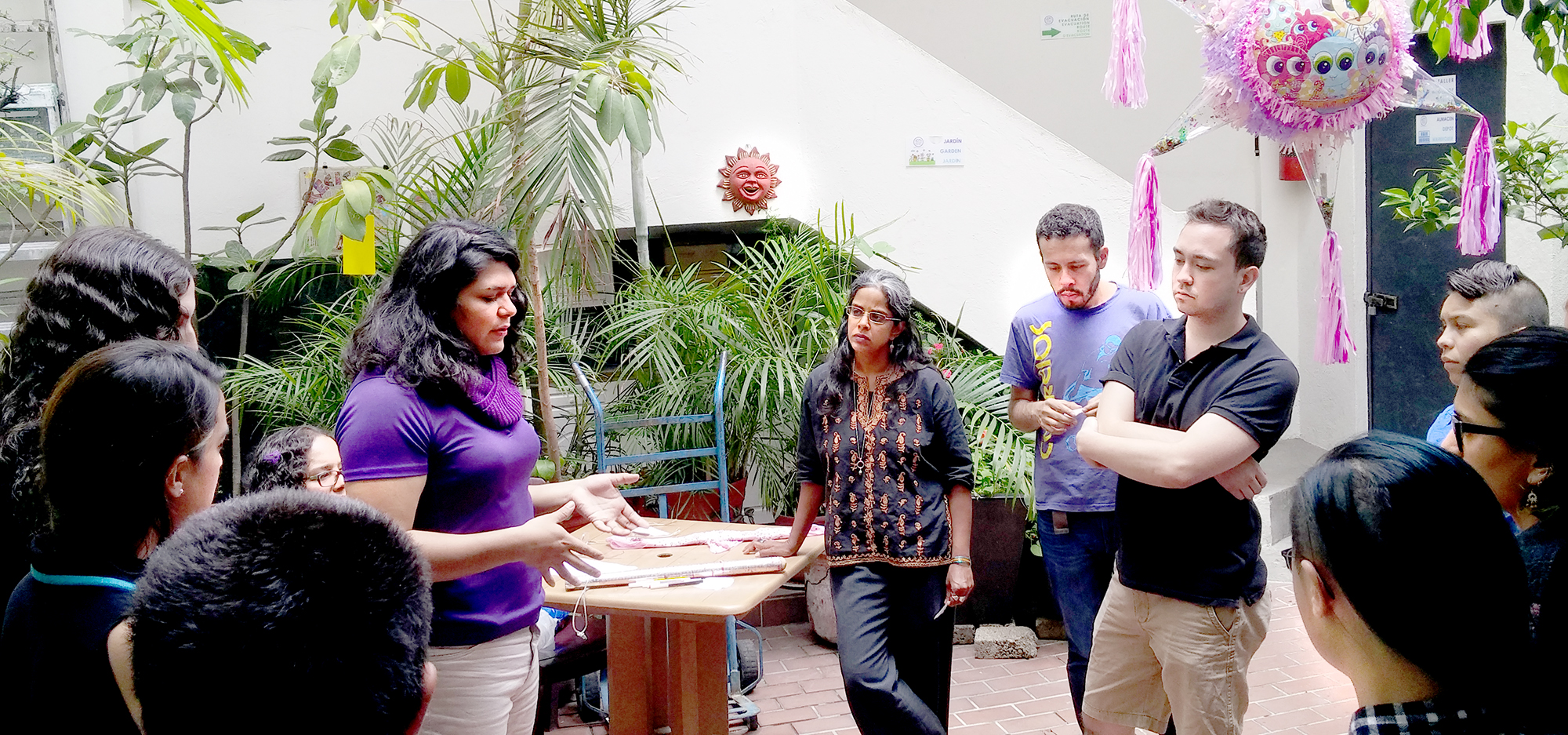 Wolf and her classmates found that some challenges are the same in the U.S. and Mexico. After visiting markets in upscale and working-class neighborhoods in Mexico City — a lesson in disparity and the normalization of disparity — the students recognized that similar wealth disparities exist in Seattle but are often overlooked. Taranath says this process happens during every study abroad trip she's led. "When we visit another culture, we pay close attention because everything is new," she explains. "We tend to forget how we've normalized things at home, the very same things that might provoke us abroad. That's the power of study abroad travel — to learn anew, and see the familiar with new eyes."
Several of the Mexican partners had the same experience months earlier. Two of them visited Seattle for ten days in April through a UW Global Innovation Fund grant, to meet with UW faculty, staff, local community organizations, and students. Two others came up for Seattle's Trans Pride march, invited by a UW student they'd met during the previous summer's study abroad in Mexico.
"That kind of fresh-eye perspective — we were experiencing it in Mexico while our partners experienced the same thing in Seattle. It made our collective conversations about social justice and human rights really dynamic," says Taranath. "The partners' visits to Seattle solidified our commitment to make this program a two-way learning process. The more we learn from one another, the stronger our movements, the stronger our analysis, and the stronger our connections."
Since returning from Mexico, many students are determined to translate their learning to action.
"By the end of the program, the students think more expansively about what it means to be who we are, and to be from the most powerful nation on earth," says Taranath. "So many of us have access to so much here. We can be stuck in guilt and shame about that, or we can think about how to mobilize for change and reach as many people as we can. To see students shift from guilt and shame to strategy and action is definitely a beautiful thing. It makes collaborative learning that much more special."