A photogenic dog. An election year. A timely UW course. All contributed to Hunter Brown's mercurial rise as a TikTok content creator. In the past year, Brown — a UW communication major with a minor in American sign language — has gained 275,000 TikTok followers, with his most popular video topping 2.6 million views.
Brown first posted on TikTok (as @HunterKaimi) in December 2019, three months after transferring to the UW from Shoreline College. He shared some lighthearted videos, thinking little of it. He had never been particularly interested in social media, but TikTok's emphasis on short videos — an average of 15 - 60 seconds in length — appealed to him. "I would consider myself a decent writer, but I prefer to use my voice to articulate my thoughts," he says. "I really enjoy public speaking. That comes more easily for me."
For his sixth video, Brown posted a short clip of his dog Milo running up a flight of stairs, each step synchronized with background music. The next day he was stunned to discover that the video had gone viral, with more than 500,000 views. Within a week, the video had 1.6 million views. It also showed up on YouTube compilations and Snapchat stories.
At the beginning of this, I wanted the views and the likes and the followers. Now...that's not what I'm in this for.
"I got extremely lucky," says Brown. "The first small set of people who saw the video watched the whole thing a couple of times and then commented and liked it and shared it. Others did the same and it was the snowball effect and suddenly over a million and a half people saw it."
A Communication Course, A New Perspective
After that viral video, Brown figured Milo was his ticket to TikTok glory. He posted several more videos of his charming pooch, but none received more than 2,000 views. "It was a humbling experience and a bit of reality check," Brown recalls. Still, that early viral video helped increase his followers from a few hundred to 13,000. He became more intentional about his posts, offering a mix of fun videos and more provocative content about politics and social justice.
While Brown was experimenting with content on TikTok, he began a winter quarter course, COM 482: Interpersonal Media, taught by Benjamin Mako Hill, assistant professor of communication. The course examined a variety of online communities to understand why some thrive while others wither. Through the course, Brown recognized that his social media presence on TikTok was also creating an online community, as followers interacted with him and each other.
For a final class project, Hill had students analyze an online community of their choice, applying what they'd learned throughout the quarter. Brown analyzed his own TikTok community of followers to better understand what kept them engaged.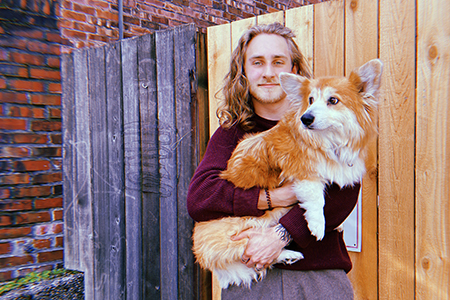 "One of the biggest things I took away from Mako's class was the importance of retention in online communities — keeping people interested for a long time," says Brown. "TikTok was still pretty new when I took the class, so I had to take what I learned about older groups like Wikipedia and Reddit and apply it to this new social media platform."
By the time the class wrapped up in March 2020, the pandemic had taken hold, the US presidential primaries were in full swing, and police brutality was in the news. Brown's videos increasingly focused on social issues, and his number of followers continued to climb.  More important than numbers, he says, is how his TikTok presence introduced him to new people and ideas.
"Sometimes people who follow me inform me about things I didn't know about, important stuff going on in the world," he says. "We engage in a dialogue that pushes me and helps me learn and better myself as an individual. Someone might comment, 'Hey, do you know what's going on with Uyghur Muslims in Chinese concentration camps?' I get a ton of comments that inspire me for other videos."
A New Reality
Brown's decision to focus on weighty issues helped grow his community but may also paradoxically limit its growth. His numbers have plateaued, possibly due to fatigue following the presidential election but possibly, Brown theorizes, due to a TikTok algorithm that favors more upbeat posts. He sometimes posts humorous videos to boost his numbers but admits that feels calculated. His priorities have changed.
"At the beginning of this, I wanted the views and the likes and the followers," he says. "Now I'm realizing that's not what I'm in this for. I need to remind myself to just post stuff that I want to and not worry about how many likes I get and how many followers I have, because that's not what is most important to me."
Last quarter, one year after Brown took Hill's course, he was invited back to the class as a guest speaker. He had plenty to share about his experience as a content creator and how his priorities have changed.
"Part of the students' homework before my visit was to watch my TikToks, which I found hilarious," says Brown. "It was really cool to talk to the class and realize I was in their shoes a year ago. It was Mako who introduced me to the idea that TikTok can be a community if you make it one. And using the tools that I learned from his class, I did create a community. It's one that I'm proud to be a part of."