When Zhehui (Simona) Liao arrived at the UW as an international student from China, she assumed she would gain insight into American culture.  She didn't expect to develop a more nuanced understanding of her own Chinese culture.
Liao's perspective on many social issues shifted at the University, in large part thanks to professors and courses in the Department of Gender, Women & Sexuality Studies (GWSS). She graduates this fall with a double major in computer science and GWSS.  
"Sometimes people feel like those two majors are not related, but I feel like I've always been living at the intersection of them," says Liao. "Growing up, I was always in STEM classes, but as a girl, I did not always feel welcome in them. I'm hoping to change that."
A Hidden History
Growing up, Liao did have one important role model in STEM: her mother, a professor of material science and engineering in Beijing. Nevertheless, she found that attitudes about women in STEM — especially in computer science — were slow to change. Those attitudes made Liao hesitant to study computer science at the UW until a friend convinced her to try an introductory course in the Paul G. Allen School of Computer Science & Engineering.
"I did really well in that course and that gave me confidence," Liao says. "And that course showed me the potential of computing, the things I can build."
Growing up, I was always in STEM classes, but as a girl, I did not always feel welcome in them. I'm hoping to change that.
That same quarter, Liao enrolled in GWSS's Introduction to Women Studies course. Gender inequality interested her, and she hoped the course would address some of her questions.
"That course really surprised me," Liao says. "It was not only about women, but also about race, class, disability, nationality, the environment, and more. It was a little bit overwhelming but exactly what I wanted. I decided to take more GWSS classes."
A course on gender and sexuality in China surprised Liao even more. Though she had studied Chinese history during her schooling in Beijing, Chinese feminists were never mentioned in her textbooks. Their important role in key historical events was never discussed. Now, in a classroom halfway around the world, she was learning about Chinese feminist and LGBTQ movements. It was a revelation.
"Learning about Chinese feminists from 100 years ago really encouraged me," she says. "They were really bold. In China, the narrative is that feminism and the LGBTQ movement are imports from the west. But they are not imports. We have our own movements in China. That class not only helped me understand the history of my country more but also helped me understand myself better. Seeing what other Chinese feminists have done made me feel like I could do something as well."
Encouraging Mentorship in China
Liao quickly found a cause to focus on: supporting women interested in STEM careers in China. She had been mentored by women in STEM through UW programs, but her friends in China had not had similar opportunities despite a thriving community of women in STEM in China.
"There are so many mentoring resources at the UW and I'm so appreciative of those opportunities and mentors," Liao says. "So I decided to work with my friends in China to create a mentorship program there that connects women college students with women professionals."
The program, Forward with Her, is based on similar programs in the US, but not all aspects translate seamlessly.  The concept of mentorship is not as common in China, which made recruitment of professional women in STEM more challenging. "People asked why mentors would volunteer their time," Liao recalls of the program's early days. "We had to find a way to introduce the concept and contextualize it so that people would want to join."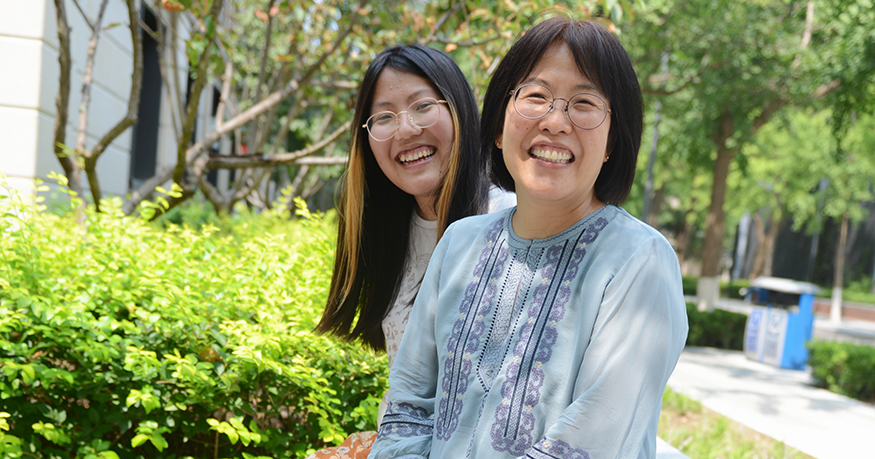 Fortunately, Liao's mother agreed to serve as a mentor and recruited other women in STEM to participate. A friend's mother, an aerospace engineer, also signed on. As the program gained credibility and the concept of a mutual-support community centering women's experiences and knowledge was accepted, more women became mentors. Since the program launched in 2020, more than 100 mentors have helped more than 400 mentees.
Liao is also making a difference closer to campus as a volunteer with the Society for Women Engineers (SWE at UW), a UW registered student organization (RSO). First she led coding workshops for middle school students at underfunded Puget Sound schools, then led a mentorship program that pairs female and nonbinary high school students with SWE mentors. Next, she became SWE's vice president of community outreach. This year she is president of the organization. She also has served as president of Minorities In Tech, an RSO in the Allen School.  
Computer Research with a GWSS Perspective
In addition to her many leadership roles, Liao has found time to participate in research. As part of the Social Futures Lab in the Allen School, she focuses on sexual harassment in the gaming industry — specifically harassment experienced by women playing virtual reality games. "I'm looking at how games are designed, what's been done to protect their users, and how we can change the design to make it more empowering," she says.
Liao's GWSS background has influenced her approach. "Often in traditional science research, the goal is to be objective," she says. "But it's hard for humans to be 100 percent objective. From GWSS, I learned that in research you need to recognize your positionality — to embrace it, reflect on it, and recognize how it can impact the research results. My opinion is that all technologies are designed for humans, so what we can learn from our emotions and our bodies is important."
After Liao graduates this fall with a BA in GWSS and a BS in computer science, she will continue at the Allen School for another year through its combined BS/MS program. But that doesn't mean she's done with GWSS.
"I plan to continue taking classes in GWSS," she says. "I've even thought about doing a PhD in GWSS because I do have the passion for it. I'm pursuing computer science right now, but you never know."
That passion was evident during Liao's software engineering internship at Microsoft this summer. While participating in a speech club for employees, she had the opportunity to speak to her colleagues on a topic of her choosing. She chose to talk about GWSS.
"I used that opportunity to introduce my GWSS major and talk about data feminism — a good example of the intersection between tech and feminism," she says. "I may be in tech, but I'm still going to keep talking about GWSS."