No one would describe Jennifer Smith as a traditional college student. The mother of three, who left school after ninth grade, worked as an assistant racehorse trainer for 14 years before finding her way back to academia. Now Smith, with majors in history and comparative history of ideas (CHID) and a minor in American Indian studies, has been named the Dean's Medalist in the Humanities. The College of Arts & Sciences awards the Dean's Medal to one exceptional graduating senior in each of its four divisions.
Smith transferred to the University of Washington from Green River Community College and discovered a passion for research while participating in the UW's Summer Institute in the Arts and Humanities. Through her research, she has combined her interests in history, politics, Indigenous communities, and horses, with a sophistication that is "more like an advanced graduate student rather than an undergraduate one," according to research mentor María Elena García, professor and director of CHID.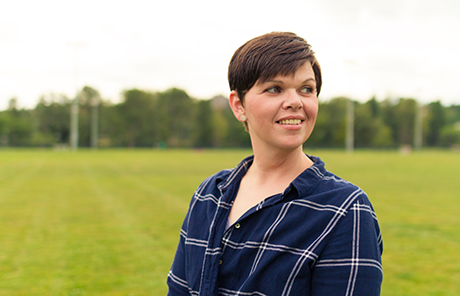 Smith has received numerous scholarships along the way, including two Mary Gates research scholarships, an Early Identification Program Presidential Scholarship, the History Department's Faye Wilson Scholarship, a CHID Research Scholarship, and the Thomas Powers Paper Prize. She has mentored other students interested in research, working with the UW Undergraduate Research Program.
Though she has graduated, Smith has not left the UW. This fall she will rejoin the Department of History as a graduate student working toward a PhD. "Over the course of the time I have known her, Jennifer has gone from wondering if she belongs in the academy to exploring ways to remake it," says García. "She is poised to make serious contributions to histories of Indigenous peoples, the environment, and the U.S. West, and to the critical study of race, gender, and species."
Below, Smith answers six questions about her UW experience:
What led you back to school at this time in your life?
I wanted to be a better role model for my children and be able to help them with homework as they grew older. Having no more than a ninth grade education, and a job that required me to relocate frequently and work seven days per week, I knew that I could not be the mother my children deserved if I didn't educate myself.
Is there one opportunity you had at the UW that you feel set you on your current path?
My involvement in the 2014 Summer Institute for the Arts and Humanities (SIAH) really opened my eyes to the ways in which people outside of STEM fields could engage in research and make meaningful contributions across disciplines. That experience ignited a fire in me, increasing my participation in research and fostering relationships with faculty and peers across a variety of disciplines. I still maintain contact with some of my SIAH cohort, and Professor María Elena García, who served as SIAH faculty, remains my primary research mentor.
...for a woman who never graduated high school and was out of school for two decades, the attention and recognition feels very surreal.
What has been the focus of your research?
I am particularly interested in the complex and diverse ways that Indigenous communities resist colonial hegemony — both in the past and present — and through my research found that the Confederated Tribes and Bands of the Yakama effectively used horses as a tool of resistance that allowed them to retain access to meaningful lands and resources during the first half of the twentieth century. Faculty helped me refine my research questions and find scholarly sources to review, but they also allowed me to work independently. I cannot express how much I appreciate the faith faculty members have had in my ability to engage in meaningful, original research without constant supervision.
As an advocate for research in the arts, humanities, and social sciences, what would you like people to know about research in these fields?
I think it is important for people to know that research within these fields is equally as important as research in STEM fields and worthy of support and recognition. There needs to be more cross-disciplinary collaboration to bridge the divide between STEM/Social Sciences/Humanities fields. You cannot reduce the human experience to a series of molecules or calculations. Conversely, theory and rhetoric cannot singlehandedly solve real-world problems. We need each other and if we spend more time working together instead of in isolation, there is space to do some really great things.
You have received quite a few scholarships.  What has that support meant to you?
It has provided a sense of validation — that what I am doing is important and recognized — and has allowed me to not rely so heavily on loans and alleviated some financial stresses. I cannot begin to express my gratitude for all of the scholarships and awards I have received during my time at the University of Washington. It is truly an honor, and for a woman who never graduated high school and was out of school for two decades, the attention and recognition feels very surreal.
You were admitted — with funding — to five PhD programs in history. Why did you choose the UW?
This way I can continue working with people I respect and value, while ensuring my children remain in a stable environment, close to friends and extended family.