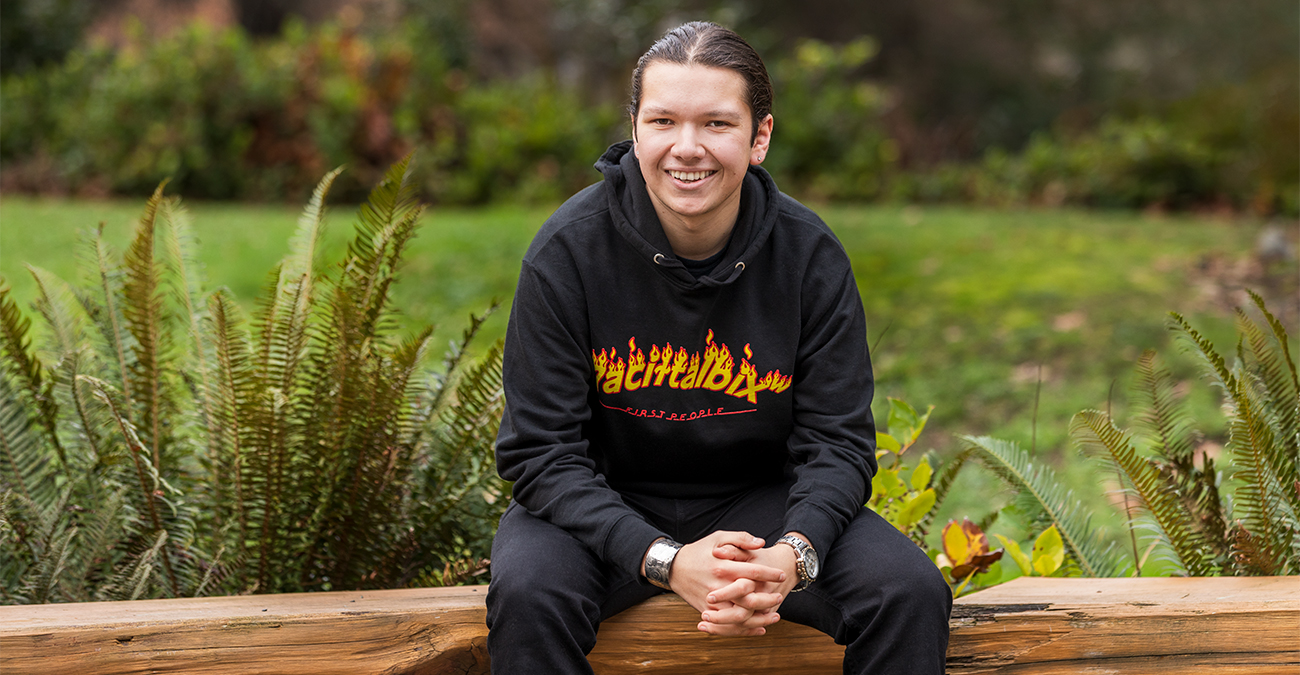 Before the pandemic, Owen Oliver spent many hours at the Burke Museum among shelves and drawers of Northwest and Southwest objects in storage. To him, visiting the collection felt like visiting family.
"I'd open the door to the collection and say, 'Good morning, ancestors. Everybody wake up!'" recalls Oliver, a UW senior majoring in American Indian Studies and Political Science. "It's important to greet them and wake up those spirits."
The Burke has always been a second home to Oliver, whose people are Quinault & Isleta Pueblo. His father, Marvin Oliver (MFA, Art, 1973), was a renowned artist, UW emeritus professor of American Indian Studies, and adjunct curator at the museum. His sister Lisa (MA, Museology, 2009) did her graduate research at the Burke.  In 2019 Owen had his turn, helping to organize the Northwest Coast mask collection before the Burke's reopening in October 2019.
To encourage others to feel a similar sense of belonging, Owen then created a course at the Burke for Native American students, co-taught by Sven Haakanson, Burke curator of Native American anthropology and associate professor of anthropology. Offered in winter 2020, the course featured access to the collection and an opportunity for students to research works created by their ancestors.
The experience was everything Oliver had hoped for. He recalls the moment a classmate found a basket made by one of her ancestors in the Burke collection and was able to hold it. The student was "just overwhelmed," Oliver says. "The strength of her ancestors are in that basket. It was amazing to see how it made her feel a part of the land."
The tour is kind of an ode to the Indigenous UW community, and a gift of my parting.
That course was not Oliver's first foray into connecting Native communities to the University. His sophomore year, through the UW Pipeline Project (now Riverways Education Partnerships), Oliver led a week-long trip to the Quileute Tribal School in La Push, Washington, where he and other Native UW students spoke about higher education and helped Quileute teens prepare for college.  
His junior year, Oliver spent time at the University of British Columbia (UBC), which later led to another community project. During his four months at UBC, with scholarship support from the Corbett Exchange Scholars Program — a program of the Canadian Studies Center  in the Jackson School of International Studies — he immersed himself in UBC's extensive Indigenous Studies and language program offerings, where he encountered a booklet highlighting Indigenous house posts across that campus. The booklet got his wheels spinning. "Hmm, there's nothing like this at the UW," he thought.
Upon his return to Seattle, Oliver decided to create a walking tour of the University of Washington Seattle campus, highlighting the Indigenous presence on campus. His senior year, with support from the Husky Seed Fund and Center for American Indian and Indigenous Studies, he researched and drafted the tour.
"It's going to be a 40-page, full color booklet that tells the story of Indigenous places through an Indigenous community member's eyes across seven stops on campus," Oliver says. Stops include the Burke Museum, wǝɫǝbʔaltxʷ  [Intellectual House], Indigenous artworks, the Medicinal Herb Garden, the Ethnic Cultural Center, the Husky Union Building (HUB) — where one of his father's works is on display — and Union Bay Natural Area. The booklet will be available as a PDF in spring 2021, with physical copies available at University libraries and other campus buildings in the fall.
Oliver's role as UW tour guide seems particularly fitting given that his parents, his grandparents, his sister, and numerous other relatives have been Huskies. Many of them went on to be educators, including his grandfather Emmett Oliver (MEd, 1947), who was the director of the Indian Student Program at the UW and then the supervisor of Indian Student Education for the state of Washington. Oliver envisioned a similar future for himself before his focus recently pivoted toward politics.
In 2020, Oliver became director of the UW's American Indian Student Commission and was named to UNITY's (United National Indian Tribal Youth) "25 Under 25." He also was selected as a Champion of Change, a prestigious honor granted by the Center for Native American Youth (CNAY) based in Washington, DC at the Aspen Institute. Each year five Native youth from across the country are selected and travel regularly to DC to meet with politicians, make policy recommendations, and potentially pursue an independent project.
"The program dropkicks you into politics," says Oliver, who is now the secretary of CNAY's youth advisory board.  "With COVID we haven't been able to go to DC as often as we'd like, but we're still Zooming with members of Congress and sharing our ideas. I've spoken with Representative Deb Halaand, the first Native person to be nominated as Secretary of the Interior, and right now the transition team of the Biden administration is asking for our suggestions. It's allowed me to get my voice out there and really advocate for myself, those whose voices are suppressed, and — as always — the land."
Oliver may head for DC again — for a full-time job — if an opportunity arises within the new administration. But first he's focused on completing his second major in political science and publishing his Indigenous Walking Tour before graduating in June.
"With my lived experiences growing up at the University of Washington, I felt it was my responsibility to tell that story," he says of the walking tour. "I'm so excited to release it. The tour is kind of an ode to the Indigenous UW community, and a gift of my parting."