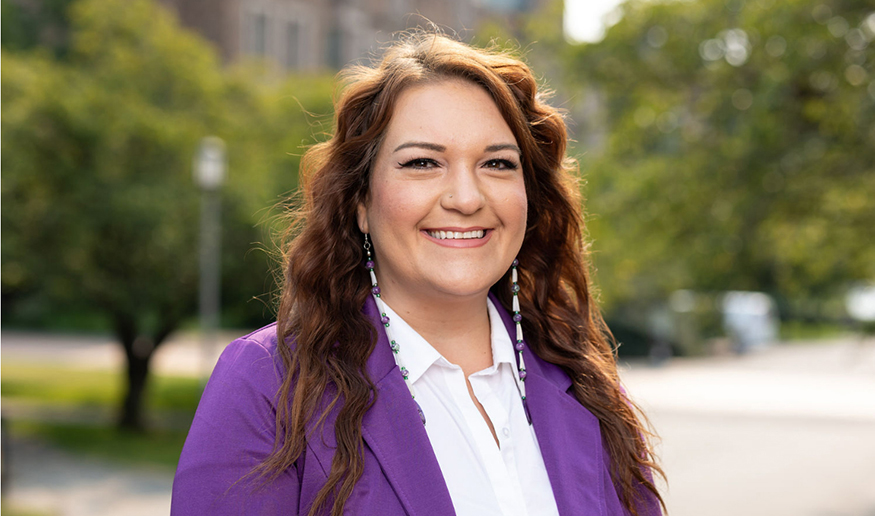 Sherri Berdine (BA, 2008) had a rocky start as a University of Washington undergraduate. She was the first in her family to attend college and struggled to find her community at the UW. All that changed when she joined First Nations @ UW, a student organization that focuses on cultural traditions and concerns in the Native community. Berdine also found support from a faculty mentor in the Department of American Indian Studies (AIS).
"I really think those things led me to where I am now," she says.
Berdine is referring to her current role as the UW's Director of Tribal Relations. Reporting directly to the UW's President and to the Vice President for External Affairs, she manages the government-to-government relationships between the UW and the American Indian tribes throughout Washington and the Pacific Northwest. All her previous experiences — including her UW education — have prepared her for this leadership opportunity.
Following Her Interests
Berdine was raised in Bremerton, Washington with Indigenous values and traditions. Her heritage is Alaska Native (Aleut & CIRI Descendent). She met AIS Professor Dian Million, also of Alaska Native heritage (Tanana), at a low point during her first year on campus.
"She sensed that I was struggling," Berdine says of Million. "She took me under her wing and suggested courses that I might be interested in and successful in. She saw something in me that I didn't see in myself. I think it was really because of her guidance and patience and humility that I was able to quickly get back on track and feel confident in my abilities to complete my degree."
Taking on this role now, it feels like I've come full circle.
Long intrigued by policy, Berdine took classes that interested her — mostly in sociology, AIS, and political science — without considering a major. When she finally met with a UW adviser about declaring a major, she was told she'd already completed all the requirements for the sociology major. By the time she graduated, determined to work with Native communities, she was one course shy of a second major in AIS.
Making the Most of Opportunities
Berdine's first job did not reflect her professional goals, but through serendipity, it led to a job that did. As an executive assistant at a Seattle law firm, she was delivering a package to the Federal Building when she noticed US Senator Patty Murray's office down the hall. She stopped in to ask about internship opportunities; the internship coordinator decided to interview her on the spot.
"I was on the clock at my other job when we sat down and the internship coordinator began asking me questions," Berdine recalls with a laugh. "And then she said, 'When can you start?' And I'm like, 'I have to get back to you. I don't even know if I can start.'"
The law firm agreed to Berdine's internship, a commitment of ten hours a week for three months, while she continued working at the firm. The internship was extended another three months, and soon after, Berdine was offered a permanent job with Senator Murray's office. Over the next two years, she worked her way up from staff assistant to constituent services representative to intern coordinator. She was involved with tribal affairs as well, attending tribal events where she sometimes spoke on the Senator's behalf. "I was 21 or 22 at the time, so this was really big and exciting for me," she says.
Next came a job in Washington, DC with Kauffman & Associates, one of the oldest and largest Native women-owned government consultancy firms. Again Berdine quickly moved up the ranks. Her focus was managing government projects on behalf of tribes, serving as the intermediary between the tribe and government stakeholders.
Berdine stayed seven years, completing a Master of Jurisprudence in Indian law from the University of Tulsa College of Law while working full time. After establishing a Seattle office for Kauffman & Associates, she decided it was time for a new challenge — but it had to be the right fit.
Then she heard about the UW job.
Coming Full Circle
Director of Tribal Relations is a new position developed by University of Washington leadership in collaboration with tribal leadership. It was envisioned as the primary point of contact for tribes in relation to the University, with responsibilities that include coordinating visits with University leadership, providing access to UW programs, and helping UW faculty and staff build relationships and partnerships with Indigenous communities.
"When I saw the job description, I thought, 'If I could draft my own job description, this is what it would be,'" says Berdine. "It included all the pieces that I liked from my last job and left out everything I didn't like. It was really incredible."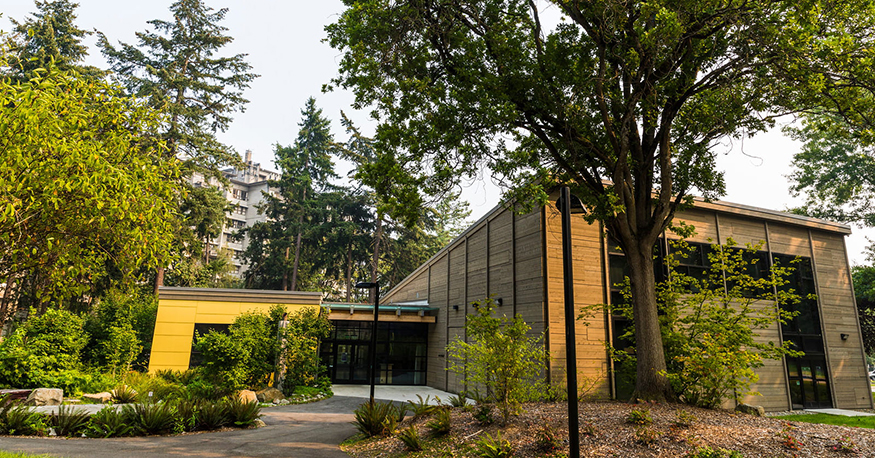 Berdine started in her new role in March 2022. She spent her first few months talking with departments and units across campus to understand their current relationships with tribes and to identify opportunities for future collaboration.
"I've met with almost every college and department and learned about so many intersections and collaborations with Indigenous communities," she says. "Based on what I've seen, we have decent relationships with a lot of tribes. But there's also room for improvement. Relationship building is at the core of this position."
I've met with almost every college and department and learned about so many intersections and collaborations with Indigenous communities.
Berdine notes other promising developments at the UW since her time as a student, including the adoption of land acknowledgments across campus, the appointment of the first Native American member of the Board of Regents, and the opening of wǝɫǝbʔaltxʷ - Intellectual House, a learning and gathering space for American Indian and Alaska Native students, faculty, and staff. She is part of an effort to realize a long-planned phase two for Intellectual House — a student-centered building adjacent to the current one. And she is involved in efforts to establish tuition wavers in Washington state for members of federally recognized tribes, similar to a program adopted by the University of California system. 
There's a lot on Berdine's plate – and that suits her just fine.
"As an Alaska Native woman, I was always trying to figure out where I could find my place as a leader in my community," she says. "It turns out that I found it here at the UW. As a UW undergraduate, I immersed myself in policy and tribal affairs, and that shaped my whole world view and what was possible to me. Taking on this role now, it feels like I've come full circle."